Name: Ashita Dhadda
From: Englewood, New Jersey
Grade: Grade 11
School: Dwight Morrow High School/Academies @ Englewood
Votes: 1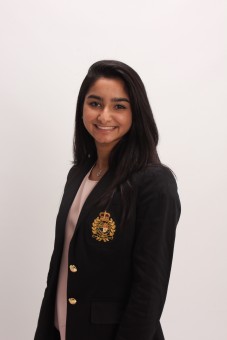 In
the summer of 2015, I visited India to take care of my grandfather,
who had lost his limb due to a medical emergency. Because of his
inability to live his life as he once did before, I made every effort
to support him. Through this experience, I decided to assist those in
my grandfather's position and those less fortunate and give them
the experience of rehabilitation through the use of a prosthetic.
RAV,
derived from the word rave, was formulated to manufacture trendy,
affordable arm cuffs for young adults. The subtly glamorous cuff is
designed to be worn just about anywhere, and is meant to call to mind
the ethereal radiation of the moon. RAV donates 50% of our profits to
Prosthetics for Change, a student-run, non-profit organization that
provides artificial limbs, calipers, and other aids and appliances
free of charge to the handicapped in twenty-nine countries. Our team,
including myself, spend about 15 hours weekly contributing to this
cause. Last year, I collaborated with the world's largest nonprofit
organization for prosthetics, Jaipur Foot, centered in Jaipur, India.
With its research and development with Harvard, MIT, and Stanford,
Jaipur Foot has impacted 1.67 million people. Our dedicated team has
continuously been working on organizing assemblies in multiple school
districts, advancing our social connections, and working with fast
food chains to hold fundraising events, among other endeavors.
Prosthetics
for Change's mission is to sponsor 100 artificial limbs on an
annual basis with future awareness and contributions. I hope to one
day assist in the implementation of over fifty ramps in ten
impoverished countries for the handicapped. As an organization run by
high school students, we have learned that we may not be able to
completely change the world, but we realize that we can play a small
part in changing the lives of some people. To me, forward-looking
means envisioning the world in which I have made a positive impact
and have improved the lives of the less fortunate. I
want to make a positive and lasting impact in the lives of those less
fortunate, and give those who need it the life-changing opportunity
to receive an artificial limb free of charge.

My
biggest challenge currently is branching out to develop the first
chapter of Jaipur Foot in the United States. Managing Jaipur Foot
overseas was challenging. When I envisioned every disabled person one
day having access to a prosthetic they need, I was determined to do
my part to make this a reality. With limited help from the management
of the organization, the Prosthetics for Change team collectively
worked together to overcome this challenge by taking one step at a
time.
"With
every donation, we are one foot closer to making a difference in the
world." Throughout my journey of creating RAV, this quote has
succinctly captured what this venture is all about. It inspires me to
continue developing the company and working hard to create meaningful
change in the world, one artificial limb at a time.