Name: Kyle Joseph Booey
From: Medical Lake, Washington
Grade: Senior
School: Medical Lake High School
Votes: 0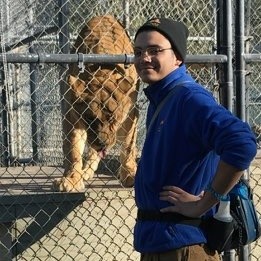 Youth Forward
Scholarship Essay:
One
Lucky Job Shadow
In November 2016 I went to my local big cat rescue Cat Tales
Zoological Park and did a job shadow for my senior project. I had yet
to discover my passion; basically because I didn't think college
was a possibility for me, so I didn't put any productive thought
into it. Cat Tales is a big cat rescue in Spokane, WA; they are also
a zoological training center. On the first day they had me scrubbing
the tiger pans and cutting up equine for the daily feeding. I was
just happy that I was even given the opportunity to be behind the
scenes of a zoo. Catone (Debby Wyche, the owner) was in food prep
that day and was showing me the ropes while the other zookeepers were
out in the park tending to the public. At the end of a long day of
work Catone offered me to keep coming back and to volunteer. I lived
about a hour away in Medical Lake, WA, but I wasn't going to let
that stop me from this opportunity. I accidently brought home a radio
that we use for making calls in the zoo. The following day I drove
back to give them the radio. One of the senior staff took notice to
my hard work the day before and decided to take me behind the barrier
fence. I got to pet the siberian tiger, lion, and play with the
bobcat! At this point my passion for zoology was solidified.
Over
the course of 6 months I was volunteering there. I put in over 700
hours within a 3 month period over the summer of 2017. My biggest
responsibility was moving the 650 pound tigers in our care; if I made
a mistake it could easily be life or death. The biggest challenge was
working from 7:25 AM to 7:00 PM. It was tough but my passion for the
animals really pushed me through. From spotting animal injuries and
fixing them to walking the dog I gained satisfaction from it all.
This was the early stage of my time at Cat Tales, and I am still
learning new things every time I am work. One lesson that has stood
out is learning the ability to take pride in my work; If I didn't
it could either mean a dead animal, or a dead zookeeper. Regarding my
career goals, they are directly involved with my time at the zoo. I
was offered an internship to pay for my Professional Zookeeper
Certification ($6,000 program.) I have been a student at both Spokane
Falls Community College, and Cat Tales Zoological Park. I am the
first intern of my kind in the whole 30+ years since Cat Tales has
opened. It was all attributed to the volunteer hours I put in. I am
now on track to be a zoologist and I am sure it wouldn't of been
possible without that one lucky job shadow.