Name: Bocar Alpha Wade
From: Stanford, CA
Grade: 11
School: Stanford University
Votes: 0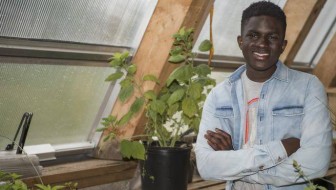 I remember the feeling of being trapped; a product of my environment, unable to create my own path,
unable to grow my roots. When I was young, I was oblivious to my
surroundings: what felt, saw, and heard. As a child growing up in the
project housing, poverty was masked through my fun and adventures,
forgetting my current situation through the joys of my childhood.I
remember the hot summer days, sipping the sweet indulging nectar from
honeysuckles and sprinting through the jungle gym of police tape and
bullet shells with my brother. Living in low-income housing felt like
a tale out of a storybook, it was my reality.

Gardening became my escape from violence, drugs, and deprivation.  I found
richness, I saw the true beauty in my community. To be able to
feel the cool soil between my toes, to smell fresh raindrops on
petals and to hear the excitement of kids picking vegetables delights
me; a garden is more than a patch of plants, it's home. I help run a
non-profit organization called Hope Blooms where we take fresh fruits
and vegetables from our community garden and use them as agents of
change to tackle to issue of food security and access to education in
my community.
I became a leader in my community. Today I mentor over 60 youth, ranging from
the ages of 6-14 and over 35 families; growing over have 3000 pounds
of food a year. With the vegetables, we grow we run a non-profit
salad dressing business where all the proceeds go towards
scholarships for the youth. The youth are able to learn through
hands-on education about gardening, business and marketing, while
also aligning themselves to receive post-secondary education.

Halifax is a food desert, a city with 1 in 3 suffering from food insecurity. Every
fruit and every vegetable we grow makes an impact; we are truly
growing seeds of change. In order to change my community, I had to
change our environment, gardening is our fight; in our arsenal, we
are equipped with shovels, seeds, and our most powerful weapon, hope.
I believe that rather it is taking a village to raise a child,
it sometimes may just take the children to raise the village. Hope
Blooms has provided youth to break the cycle of poverty and really
take power of their lives. It takes one seed to plant the forest, the
impact on these youth effects the future of my community. From
volunteering at Hope Blooms for the last 7 years (20 hours a week) I
learned the power of teamwork, collaboration and action. I learned
that it's important to take action in your community, because the
actions may affect the lives of generations to come. I hope that