Name: Carisa Cleven
From: Tomah, WI
Grade: 10
School: Tomah High School
Votes: 0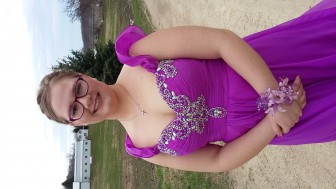 Opening
Minds with Knowledge
I
love working the animal learning centers my family puts on, the
nutrition classes I chair through FFA, and teaching religious
education classes. This is my way to help others learn and thrive. In
my opinion, we are put on this earth to help others be their best.
Everything I do is centered around sharing the knowledge I am blessed
to know. Knowledge is something people will always have. To me it is
especially important to share my faith and my love for agriculture
with others through the experiences they have.
My
family holds animal learning centers twice a year since I was seven
to share our animals with the community. This is a way for me to take
on more responsibility by coordinating and making sure we have the
supplies needed. These learning centers allow us to teach others how
to treat and handle animals appropriately. Through FFA, I have had
the opportunity to create a nutrition education program for
elementary students with the help of the monroe county 4-H extension
agent. I was able to coordinate six one hour lessons in four
different elementary classrooms in the past two years. I helped train
my peers, set up lessons, and teach the lessons. This program allows
elementary students to interact with high school FFA members while
learning where food comes from and how to eat nutritiously. In the
classroom, we taught second and fourth graders the benefit of healthy
food and how to make healthy choices. At the end of the program, I
organized a parents night, so the parents would be able to continue
to help their children make healthy decisions. Agriculture is not
just about farming, it is about so much more. That is why I plan to
become an agri-science teacher. I love seeing people's faces when
they hold an animal for the first time or discover a new fact about
where their food comes from. This is why I volunteer the way I do. To
see others learn through experiences that will stay with them
forever.
I
also enjoy teaching a small sunday school class for a half hour twice
a month. Children from ages three to twelve come to learn. This year
I have had the privilege of teaching third graders religious
education. I plan and teach lessons every Wednesday night. After my
class, I go into the fifth grade class and assist the teacher. I love
the discussions we have during class. I hope to teach religious
education again after college.
All
of this work has allowed many people to touch others' lives. That
is what life is all about. I will continue to help my family with our
animal learning centers. I plan to continue the elementary nutrition
classes this year and then pass them on to younger FFA members. I
enjoy working with children and teenagers and sharing my passion and
look forward to continuing this work through college.