Name: Lauren Helbling
From: Helena, MT
Grade: 9th
School: Capital High School
Votes: 0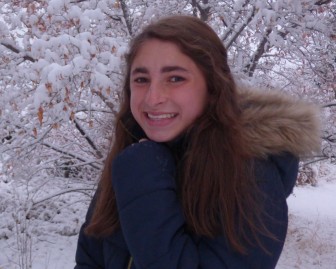 My passion for animals has reached back into my kindergarten days; I told everyone I
knew that I would be a vet when I grew up. I would sell crafts at the
end of our driveway and donate the money to benefit homeless animals.
As soon as I had the opportunity, I trained to be a volunteer at our
local Lewis and Clark Humane Society. I believe that animals have an
incredible importance in our lives, and I am passionate about helping
them in any way I can.

    Since I began as an official volunteer, I've spent over 150 hours walking, training,
and socializing dogs, assisting at Spay and Neuter Clinics,
volunteering at outreach events, and most importantly, orchestrating
my own fundraiser. Since 2012, I have personally designed and
organized an annual event called "Paint a Tile". Community
members can come down to a world-renound art studio, The Archie Bray
Foundation, and purchase a blank 4 in' x 4in' ceramic tile for
$15. We provide all the materials, and community members can spend
the evening painting a tile. After the evening is over, the tiles are
fired and glazed, and put on permanent display as a collective mural
in the Humane Society cat room. From this event, I've raised over
$3,000, which has been directly donated to the Humane Society for the
benefit of the animals.
The original organization of this event was full of obstacles. When I first
dreamed up this idea, I was only a 6th grader, and struggled to find adults who took me seriously and
trusted that I was capable of such elaborate plans. Unifying two
organizations who had never worked together in the past was another
challenge. I have grown in my confidence and speaking abilities from
meeting with the fundraising director of the Humane Society and the
education coordinator of the Archie Bray by myself so many times.
Seeing the tiles mounted throughout the cat room, and knowing that
each one provided meals, toys, and care to homeless and abandoned
animals, convinces me that the challenges were worth it in the end.
While I may not be planning to be a veterinarian anymore, I am still passionate about
finding a career where I am able to make a visible impact on the
community, like I could through volunteering. Whether that be as a
fundraiser director, or perhaps an official staff member of the
humane society, is still up to question. To me, "forward looking"
means taking actions to benefit not only immediate issues, but to
impact the future. This is the foundation of volunteering, and I
believe that gathering the community for a single cause, like
homeless animals, leaves a sense of unity that will remain for years
to come. Even thirty years into the future, when this fundraiser has
most likely been replaced with new ones, and the animals I helped are
long gone, the community mural will remain as a symbol of our city's
support for the well-being of animals.