Name: Maiya Rizzo
From: Fort Wayne , IN
Grade: 10
School: North Side High School
Votes: 0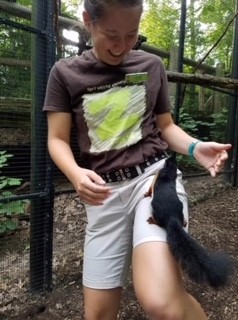 Volunteering is a
way for me to help organizations provide memorable, educational
experiences to the public while learning more about things that are
important to me.
My most forward
looking volunteer experience has been my four years (over 340
hours) at the Fort Wayne Children's Zoo that grew out of my love of
animals. At first, I assisted with summer camps and provided
visitors with educational facts while handling small animals. The
last two years have been especially rewarding, assisting zookeepers
with their daily duties. Every day brings a new and different
learning opportunity. Lately, I have been preparing food for
carnivorous birds. I count frozen fish, hide medicine in their
gills, and sanitize the kitchen. Afterwards, I help the zookeepers
with feedings. I feel good about helping the staff do their jobs and
they always share their appreciation and knowledge. This has given
me a glimpse at a zookeeper's career and taught me about animal
biology and behavior.
Some of my
fondest memories include our flirtatious bachelor named Hugh, an
African black-footed penguin, performing his mating dance for me and
Norbert and Purdue, our Aldabra tortoises, enjoying me oil their
shell, legs, and head. My biggest challenge has been balancing my
volunteer time with my other interests that include band, swimming,
and a job. Activity times often conflict so much of my volunteering
is during the summer.

As I prepare for college this fall, I have been thinking about my
future and the earth's. Like many people my age, I want to be
forward looking by working to make the world a better place.
I believe I can do this through studying environmental science in
college. Volunteering at the zoo solidified my desire to work in
some form of animal conservation. When I took an environmental
science camp this past summer it opened my eyes to the plants and
animals native to Indiana. I became more aware of how our actions
can impact things even in our backyard and in turn affect the quality
of life for people. For example, the Indiana bat is a pollinator and
is endangered. Environmental advocacy, policy, conservation,
stewardship, research, or remediation, can make a significant
difference in the health of our ecosystems and our
communities.
After
volunteering at the zoo, I now understand its importance in educating
and giving visitors personal connections with animals from around the
world. Fort Wayne rejoiced at the birth of our baby giraffe this
year and mourned when Bill the Lion (the face of the zoo) died.
Although people visit zoos for various reasons—recreation,
education, and entertainment—they leave with meaningful experiences
that encourage them to care about animals and the environment. Zoos
definitely did that for me and led me to a career in conservation. I
can only hope that in years to come when zoo visitors read headlines
about endangered species, poaching, and climate change they will
recall their memories and feel compelled to be forward looking and
take action as well.