Name: Jinan Ayub
From: Fishers, Indiana
Grade: 10
School: Hamilton Southeastern High School
Votes: 0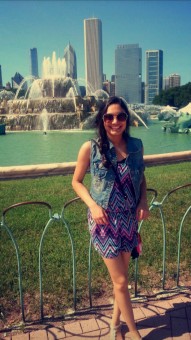 Paying it Forward
As I reminisce through my time in high school, the dominance
volunteerism has had over my high school career strikes me.
Naturally, I was drawn towards helping the community, which is why
nothing prides me more than my work as Vice President of Student
Council. Every Thanksgiving, Student Council works with the Come to
Me Food Pantry in my hometown to help feed the hungry. I chose to
dedicate around 80 hours a year planning the Thanksgiving Food Drive
each November because I realized growing up in a privileged,
fortunate town blinded me to the very real struggles people in my
very own community face.
Leading up to Food Drive week, it was my responsibility to decide on a
memorable theme for the Food Drive, publicize the event, and contact
multiple businesses and grocery stores in the community to accumulate
donations. During Food Drive week, I stayed afterschool for a few
hours every day to count and collect cans from teachers' rooms. On
the final day of Food Drive week, all 100 members of Student Council
and I boxed thousands of pounds of food and loaded them into the
truck so that they could be delivered to the food pantry before the
holidays.
As a lead coordinator of the Food Drive, the biggest challenge was
motivating students to donate food so we could reach our goal of
10,000 pounds. On the other hand, the most satisfying moment of the
entire Food Drive week was weighing the total number of cans and
revealing our total: over 12,000 pounds! To have been able to surpass
our goal of 10,000 pounds and knowing that hundreds of families will
have food for the holidays made the long hours worth every second.
Through my work with Student Council and Come to Me Food Pantry, I
learned to appreciate my life more. There are many little things I do
in my everyday life that I take advantage of, like having a home,
food, an education, even having the resources to write this essay.
Being surrounded by those in need helped me appreciate things about
my own life in more ways than I ever could have imagined.

           Personally, I believe "looking forward" means considering all the possible
ways you can make a change. In my future, I see my volunteer work
with the hungry as a compliment to my goal to study medicine. Both my
volunteer focus and my passion for medicine reflect my desire to help
others. Through my volunteer activities, I hope to travel to
underdeveloped countries and extend my service in orphanages, where
hunger and loss heavily affect children. If I were to look back at my
high school philanthropic endeavors, I believe my work with Come to
Me Food Pantry will have made a significant difference in the lives
of those who were provided with food for the holidays. Knowing that I
was able to give members of the community a better holiday four years
in a row is what motivates me to continue to give back.