Name: Nekedra Williams
From: Tallahassee, Florida
Grade: Freshman
School: Florida A&M University
Votes: 0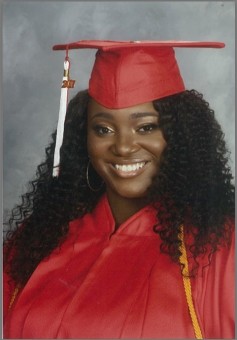 Growing up, it was normal not to see my mother for days at a time. This is
not for the reasons usually responsible for such situations; it was
because she, as a single mother, worked three jobs to support us. To
help her, I learned to cook, wash dishes, do laundry, and mind my
brothers. I admired my mother's work ethic; she inspired me to
work hard to get where I wanted to be in life. I was nine years old
at the time.
We got by until my mother was in a nearly fatal accident while driving
to one of her jobs. She was seriously injured, temporarily lost the
ability to work, and ultimately was fired by the very job she was
attempting to reach when the accident occurred. Stung by her unjust
firing and her inability to work, my mother sank into a deep
depression. Hunger stalked us, and we constantly worried about
losing the roof over our heads; my mother was our sole provider.
Witnessing my mother's sacrifices and unfair treatment inspired me
to become an attorney. Watching my family suffer in a seemingly
indifferent world cemented the idea of college being my only way to
support my family and help families who face similar circumstances.
My zeal did not abate through high school but, my focus changed. I
realized that in order to reach my goal of becoming a lawyer, I had
to focus on what would best prepare me. During my freshman year of
high school, I became a lawyer at the Leon County Teen Court. Teen
Court is an alternative court for juvenile delinquents that affords
them a second chance; they are assigned community service and/or
behavioral classes by peer representatives. Interacting with judges,
lawyers, and law students gave me an inside look and a hands-on
interaction with how the legal system works. Despite the invaluable
experience Teen Court provided, I knew it was not enough preparation.
During my junior year, I sought and won the secretary position of an
all-girls group called "Ladies of Distinction." As secretary, I
structured events and kept meticulous records of meetings and special
occasions; I also saw my organizational skills improve. At the start
of my senior year, I became the president of Ladies of Distinction.
Being president molded my leadership skills because I had thirty
girls who were following my lead. The summer going into my senior
year I landed my first job as an intern at Mooney Law Firm. I learned
how to prepare briefs for court documents, how to research laws
pertaining to real cases, and I was privy to confidential material.
Often, I was allowed to sit in on attorney meetings and sometimes my
input was requested. The experience was very enriching and I left
high school with even more conviction that being a lawyer was the
right choice for me.
I am a role model for my siblings; by being the first one in my family
to finish college, I will have forged a path for my two little
brothers to follow. Throughout high school, I never failed to make
the honor roll because I always felt that school was my only way out.
I became a dual-enrollment student my junior year and took classes
hosted by Florida Agricultural and Mechanical University. By doing
so, I successfully completed my freshman year of college before
graduating high school.

           Despite having a full year of college under my belt before officially
enrolling, I still have many more years of college to go. I became a
full-time student at Florida A&M University in August of 2017,
and I hold a part-time job to help defray the costs of my education.
My major is criminal justice with a minor in pre-law. I selected
this program because minorities and those mired in poverty are over
represented in the legal system; this is where I can be the most
help. If I am awarded your scholarship, I can achieve my dreams of
helping others find their way out of misfortune. The honor of your
scholarship truly will transform my dream into my reality.