Name: Ramona Davis
From: Washington, DC
Grade: Junior in 2015-2016; College Freshman in 2017-2018
School: Davidson College
Votes: 3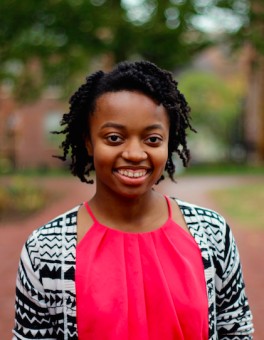 I
believe in planting SEEDS of greatness in everyone I touch. My
volunteerism has focused on the areas embodied in this acronym (S for
Special Needs, E for Environmental Awareness, ED for Educating on
Diversity and S for Service). My interest in special needs is
an every hour of every day activity for a very special reason – my
autistic, non-verbal intellectually disabled brother. I
assisted my mother with him since age 8 after my father passed from
prostate cancer. Starting my freshman year, I came to volunteer
every Sunday with the Massachusetts Special Olympics to help the team
refine their skills by competing with them in preparation for their
final tournament.
The
first E in SEEDS is environmental awareness. My aspiration has been
to preserve the planet's resources and to radically change people's
thinking on the environment. In 2016 and 2017, I volunteered
with Groundwork Anacostia, a DC organization focused on environmental
stewardship. This awesome experience allowed me to travel on
service learning trips to Yellowstone, Shenandoah, and Grand Teton
National Parks. Without that 25 hours of cleaning up trails in
the heat at each park, people would not have been able to fully enjoy
the beauty and wonder of these natural areas. These national
parks help encourage others to share my mission of preserving the
beauty of our planet. I will focus my career on bringing
environmental justice to those in need and working for other social
justice related causes.
ED
in SEEDS is for Educating on Diversity. For my career, I want
to marry my passions for the environment and diversity and inclusion.
After going from a predominately single race environment to a
multi-race environment where I was in the minority, I found myself a
new passion volunteering with my high school's Diversity and
Inclusion Office to foster improvement in inclusion. Despite the
school's diversity, there was a tendency toward unintentional
exclusion. I volunteered since my freshman year in managing the
Martin Luther King (MLK) Day events including running two different
MLK Day workshops.

S in SEEDS
is for service. I have showed the spirit of volunteerism in
various ways over the past 17 years – with my brother, with Special
Olympics and the Diversity and Inclusion Office, and with Groundwork
Anacostia. My various volunteer efforts will continue to make a
difference over the next ten to twenty years, if not just for the
fact that I made someone's life a little easier. Forward looking
means evaluating the long-term timescale with an understanding of the
bigger picture. In serving my community, I have learned and continue
to learn about the invisible issues affecting different communities.
At my community service orientation for college, I got the
opportunity to volunteer at a homeless shelter for families affected
by domestic violence. Talking with the people there gave me a new
perspective on the need for affordable housing and social programs.
Every volunteer experience has made me a more informed and socially
aware citizen who can better advocate for change.