Name: Alyssa Chew
From: Rolling Hills Estates, CA
Grade: 10
School: Palos Verdes Peninsula High School
Votes: 0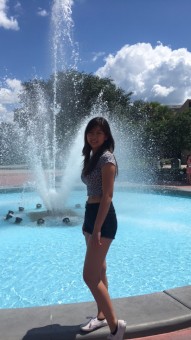 QUESTIONS
TO BE ANSWERED IN YOUR ESSAY / APPLICATION:
What
is the area in which you have chosen to volunteer (e.g.,
homelessness, anti-drunk driving, youth art programs, etc.).? Why
did you choose it?

How
many hours per year / week / month have you volunteered?

What
are / were your responsibilities as a volunteer?

What
has been your biggest challenge as a volunteer?

What
has giving you the most satisfaction as a volunteer?

What
have you learned from your volunteer position?
How are your interests and career
goals in alignment with that volunteer focus, or perhaps not?
Looking
towards the future, how do you see your activities as "forward
looking?" What does "forward looking" mean to you?

What
change do you seek to foster in the world via your volunteer
activities?

If
you were to come back in ten, twenty, or even thirty, years do you
think your volunteer activities would have "made a difference?"
How so?
Walking through the
library every Saturday morning, I hear the clacking of fingers on
keyboards and the giggles of little kids there for StoryTime. I
round the corner and sign-in before putting on my name-badge and
picking up the baskets of books to shelve.
I have always been a
voracious reader, picking up any book I could find. My mom would
take my sister and I to the library every week to check out a new
batch of books.
Now, I pass through
the same aisles each week, shelving books I remember loving as a kid.
The library to me represents playful youth and the excitement of
transporting yourself to another world. It represents a community of
people coming together to learn, to read, to wonder.
As I sort and shelve
books while answering the occasional question from a patron, I am
reminded of this community and why I love the library. I love
hearing little kids' excitement when they find books they were
looking for. I love listening to stories the elderly tell as you
help them fix the copy machine. I love the smell and feel of the new
shipments of books.
I have discovered my
favorite space represents the same thing to others. I am not the
only one who could sit in a corner of the library with a stack of
books.
In the future, I
want to continue to help my community and help the world. While I
don't aspire to become a librarian, I do want to continue my
volunteer efforts in the library of my future college campus. I also
want to help better the world in any way I can.
"Forward looking"
to me is the idea of paying attention to the future and pursuing it.
My time volunteering in the library has been "forward looking"
because it has helped me rediscover the love of reading I lost in
years past, helping me define who I am and who I want to be, a
student and a lifelong-learner. It has helped me discover what I
want to do, better the world by addressing the lacking use of
renewable energy and the need for a more powerful computer that could
ultimately compete with human brainpower.
My public library
relies heavily on student volunteers. We shelve books, sort books,
shift books, answer questions from patrons, provide technological
support. We help run the library. I seek to foster more
environments like this. We can and should rely on students who want
to help their communities. It teaches responsibility and
independence in students and fosters a greater sense of community.
Should I get the
chance to come back, I would think the work I do today benefits those
who come tomorrow. In ten years, or twenty, or thirty, I would like
to think that coming back to the library, I will find another set of
student volunteers, as dedicated and as passionate about reading,
learning, and discovering the community as I am.