Name: Bridgette Hegarty
From: Chicago, Il
Grade: Senior
School: Northside College Prep
Votes: 0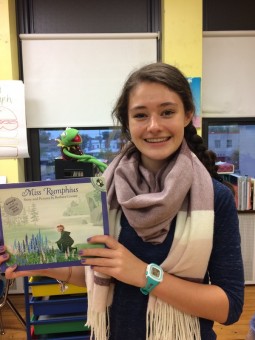 I have loved reading since before I was even born. I hear many
classmates, friends, and even adults complain about reading and it
breaks my heart. Because of this, I chose early literature exposure
as the focus of my Girl Scout Gold Award project. The Girl Scout Gold
Award requires a minimum 80 hour, unique, sustainable service
project. I decided to create an after school book club for 2nd and
3rd grade students that promoted reading as an enjoyable activity.
Each meeting focused on a specific book which we read together. After
the read aloud, we would discuss the themes of the book with each
other. The students would then be divided into smaller groups to
travel through stations. The stations would relate to the book each
week. The summer before the club started, I created a unique
curriculum which included plans for each meeting. I was responsible
for finding activities and materials to carry out the plans. I worked
with an education professor at a university, principal of the
elementary school where I held the club, and a teacher from the
school. Once the club started, my duties included running the club
for an hour and a half each week, for 14 weeks. Including planning
and the meetings, the entire project took about 130 hours. To make
the project sustainable, I started a blog at the beginning of the
project. The blog houses my original lesson plans from each meeting,
information, resources, weekly reflections, and a picture gallery.
Educators all over the world have access to the materials and are
able to continue the reading fun in their own way. The challenges I
faced turned out to be the most satisfying experiences. We planned a
reader's theatre party where the students' families would come
and watch them perform small skits. The students made a set,
costumes, and practiced reading their lines for 3 weeks before. One
girl in particular had a difficult time reading her lines. So much
so, that she didn't want to participate. After spending extra time
with her practicing and being close by during the performance, she
was able to confidently read her script. It was satisfying to know
that I made a difference as a teacher. Just in the short amount of
time I spent with these students, I know their lives were changed,
even if in the smallest way. They all had at least one positive
experience with books. All of the students I worked with are
low-income, English language learners. Their population already
struggles to advance in education and obtain higher degrees. Being a
low reader makes this even more difficult. Hopefully, getting these
students involved with reading at an early age will propel them into
a successful future.