Name: Reilly Hall
From: Midland, PA
Grade: Senior
School: Pennsylvania Cyber Charter School
Votes: 14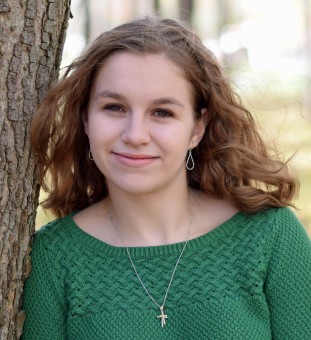 I volunteer at the Veteran's Affairs Hospital in Pittsburgh, PA and
Grove City Hospital in Grove City, PA because I love the medical
field and helping people. At the VA, I volunteer most of my time in
the ceramics department. Volunteering by cleaning and preparing
artwork for the veterans, gives me the opportunity to talk with them
one-on-one. They open up to me, talking about their experiences in
the wars they were in, what is going on with them and their families,
and what they look forward to doing. I watch the nurses and support
staff to better understand the hospital processes, but most
importantly I closely observe the patients to practice identifying
physical health conditions. This is what I want to do with my career.
I have also worked in the primary care department filing letters and
patient information, but I didn't have any real contact with the
vets. I wanted to try the prosthetics department, but was surprised
to learn that group also had little patient interaction. Over the
summer of 2017, I had the privilege of volunteering at the VA for 147
hours going twice a week, and about 100 hours at Grove City Hospital
going twice a week. At Grove City Hospital, I stocked shelves and
worked in the gift shop.
One of my biggest challenges as a volunteer is remembering the certain
things a patient could and could not do. Every patient seemed to have
a constraint, and I enjoyed the challenge of remembering them all.
For example, certain patients could not have coffee or were not
allowed to do certain physical activities. I noticed how most of
the other volunteers knew the patient's coffee orders from memory
and there were 60 or 70 patients daily. Some of the patients have had
tracheotomies, which are surgical holes in their throats. Because of
this, these patients could not speak. There were many other
constraints, and it was exciting to keep it all straight.
Satisfaction came mostly from the smiles and laughter I got in return. Being able
to talk to men and women who can forget about their past pain and
focus on the present. I know what I want to do with my life and am
mapping a path to get there, starting with volunteering. I'll
continue volunteering throughout college, which is required for
medical school. My goal is to help change the way people are feeling
and reacting to their trials wherever I am. The volunteer work I
have done has pointed my career to medicine and helped me start
before ever going to college! In the future, I'd like to be
skilled enough to work with Doctors Without Borders, and help the
less fortunate around the world. I want to help them know that it
does get better and they can overcome. Volunteering has provided me
the direction and confidence I never knew I could have!
My lessons learned really revolve around knowing that each patient is
unique. They all have different histories, likes, dislikes,
constraints, coffee orders, habits, and sensibilities. While some
processes are cookie-cutter for everyone, the personal touch is all
about the person! I focused on listening to patients to understand
what they needed, developed friendships, gave hope and shared
laughter. It is a great job!