Name: Ruvianne Mercado
From: Vallejo, California
Grade: 10
School: Jesse M. Bethel High School
Votes: 7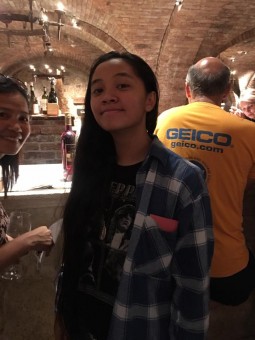 Helping others is what I enjoying doing the most and it is through
volunteering that I can see how I am able to inspire or impact people
I come across. At times it can be hard, but in the end, the outcome
is worth it. I have decided to volunteer my time to my home parish to
assist in educating the youth. Here I believe that serving at church
is not meant to be thrown into the limelight and should be an act of
sacrifice which requires you to serve with humility and so I rarely
talk about what I experience when I serve.
Volunteering at St. Vincent Ferrer, I have committed 3 years of my life so far and
not only has it changed those around me, but it has also changed me.
I am so quick to say yes to those who seek my help. Spending time at
the parish for at least 5 hours a week has not slowed me down one
bit. I apply my musical abilities to our choir, teach religious
education to high schoolers every Wednesday, and work to grow a
strong middle school community every Sunday night. So far this
journey has been filled with happiness. However, the past 3 years
were not smooth. There are times of stress that arises when I find
that I sometimes carry a majority of the weight, but these problems
get resolved when others find me feeling discouraged. It is tough to
keep staying focused on building community, which is the main goal I
am striving for. What surpasses this obstacle is the joy and outcome
from consistent and committed time I set aside for the parish.
There's nothing that makes me happy more
than seeing others I have worked alongside finding their own ways to
help the parish out. If I have inspired others around me to have the
same goal, I know that what I am doing is helping. I have certainly
learned how to manage time, be conscientious of others, plan events
accordingly, and speak publicly as well as work with anyone around
me.
Forward-looking is planning what to do now and give it to those after you to continue
the goal. It is like passing the torch where if you leave, you know
there are successors who will work to fulfill everyone's
overall goal. At St. Vincent Ferrer, we all have the goal of
spreading God's Word and hope to see a
growth in the youth where their hearts are on fire to serve the
Church as well and be strong disciples. We are a strong, diverse
community that longs for more. While volunteering, I actually aspire
to have a career that works with the church that requires all the
skills I have learned thus far. Volunteering at St. Vincent is like
being welcomed into a loving family and I guarantee that what I have
done and what others do will shape the days of the future.