Name: Justin Robert Streicher
From: Rochester, New York
Grade: High School Junior
School: Northeastern University
Votes: 0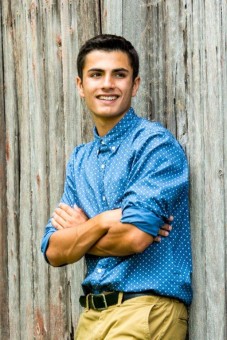 Justin
Robert Streicher
Northeastern
University Freshman
Mechanical
Engineering/Engineering Management Major
Discovering
a Passion- Through Volunteering

Humans
will never have the capacity to match the breathtaking power and
beauty of nature. By connecting with nature and realizing the
stunning depth of the outdoors, humans can spiritually engage with
generations of those who came before and free themselves from the
typical stress and emotions of daily life. For the entirety of my
life, I have had an unbreakable bond with the nature that encompasses
me, and by volunteering with numerous environmental organizations I
have realized that my passion can become a catalyst for change.
As
I continue to experience the great outdoors, my passion for the
protection and preservation of our wildlife habitat continues to
reach new heights. All my life, I have been able to witness the
rugged elegance of nature while hunting North American game animals,
and the connection I've formed with these species is unbreakable.
For years, I have been spending the majority of my free time studying
various species, including Northeastern Turkey, Whitetail Deer,
coyote, fox and numerous others. While doing so, I have come to
realize that in order to demonstrate the appreciation and utmost
respect I have for all wildlife, I must learn to protect them and
their dwindling habitat. In today's world of rapid deforestation
and the exponential growth of suburbia, I have found a new mission in
life: to protect and manage the species I have come to hold dear. In
order to make a profound impact on the survival of the great
outdoors, I have become a devoted conservationist and a manager of
wildlife habitat. Currently, I am a member of the Quality Deer
Management Association, the National Wild Turkey Federation, and the
Future Forest Consultants, an organization that works to develop
forest health and habitat for a plethora of species. To add to this,
I have become a member of the New York State 480A program, which is a
reforestation program run by the Department of Environmental
Conservation designed to help save and expand wildlife habitat. By
becoming a member and volunteer with these organizations, I have come
to realize the impact I can make in numerous sectors from developing
stable habitats for animals to even working with landowners across
the country to educate them about proper wildlife management
practices.
Aside
from my volunteering efforts to protect wildlife and their habitats,
my passion has led me to study, learn, and apply the concepts of land
management and wildlife documentation. Throughout the years, I have
filmed and photographed whitetail deer behavior extensively, so much
so that I have cataloged thousands of pictures and videos exhibiting
deer behavior and development for each month. While reviewing this
data, I have been able to learn how to develop properties into a
sanctuary for wildlife. In order to make my knowledge a catalyst for
preservation, I have spent a great deal of my summers volunteering
through working with land owners in guiding them how to promote
conservation by increasing needed food sources as well as the overall
diversity of the forest. In total, I have personally put in over 80
acres of food plots for whitetail deer herds in different areas
across New York State, totaling more than 250 hours of volunteer work
dedicated to preserving the whitetail deer herd.
Because
of volunteering, this passion I have developed has been ingrained in
my soul forever, and has even blended with my entrepreneurial spirit
and love for engineering. This past year, I completed on a capstone
project in which I combined a year's worth of whitetail
documentation with my engineering knowledge I gained from summer
internships. Gradually, I extrapolated my research into an idea for a
start-up company that focuses on creating products to help increase
the health of the nation's decreasing deer population. All around
the country, fatal diseases among the whitetail deer spread rapidly
within herds. However, with new products that supply wildlife with
nutritionally superior supplements, density dependent diseases such
as Chronic Waste Disease, EHD, Blue-Tongue, and others can be
drastically reduced. In order to further prepare myself for building
a future business in the outdoor industry, I have worked with a
nationally recognized product prototyping company that specialized in
SolidWorks and AutoCAD, and I am planning on doing an internship at
Elite Archery, a company that creates hunting products that is used
all over the world.
Truly,
my intense life-long love for the outdoors and wildlife is what makes
me passionate and dedicated to building a business. All in all, these
experiences have provided the incentive for me to protect wildlife by
creating a successful business centered around these crucial
environmental concerns in order to protect wildlife now and for
future generations. In the end, by volunteering with numerous
environmental organizations, I was able to discover my passion as
well as my future.