Name: Hannah King
From: Walnut Cove, NC
Grade: 10
School: South Stokes High School
Votes: 0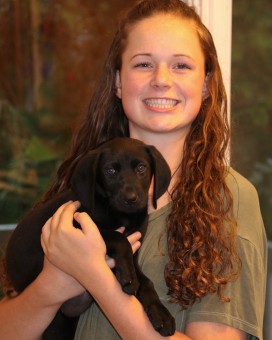 To me, "service", means taking my time and skills, and using them to
help individuals around me who may not have the same abilities. I
feel that there should be more behind service, some sort of driving
force that pushes one to help others. However, this is a very broad
definition, and through the service I have done in high school, I
exemplify how there is more to volunteering beyond simply giving your
time or skills.
I have always had a driven passion for animals. For a long time, I have
known that not all animals were able to thrive like the ones commonly
seen owned by responsible individuals. To donate my service to those
less fortunate animals, I began to foster dogs for the Forsyth Humane
Society. As a foster, I provide a temporary, stress-free environment
for the dogs to live in while they wait for their vaccinations and
spay/neuter surgery. The dogs become socialized, learn to trust
humans, and receive adequate nutrition and medications while in
foster care. In an attempt to do more than just foster and assist the
dogs the most I can, I take them out in public, getting them
publicity to facilitate their adoption. I also take photographs of
them and share them on social media, where they are advertised in
hopes of minimizing their time spent in the shelter. I have had
multiple 'success' stories, where I have found a foster dog a new
owner whom is then waiting at the shelter door to adopt it when it
returns.
While fostering helps the shelter out incredibly, I wanted to take my
service to the next level. Being in the BETA club at my school for
three years now, I started a new annual BETA club event to sponsor
the Humane Society. I organized a supply drive, collecting food,
bowls, leashes, and other pet supplies, filling up carloads of
donations to the humane society. Serving as BETA Club president this
year, I plan to increase the size of the event by going to the
shelter and volunteering our time. Being BETA Club president
requires me to not only do service of my own, but also lead the other
students in a group effort to do their own service. After my
presentation to the club in conjunction with the fundraiser, three
fellow students made the decision to later foster on their own,
leaving an impact of their own. My leadership led me to be a role
model for underclassmen, setting an example for them to follow in
doing their own service for the community.
Over the past four years my life has been constantly occupied, with my
time divided among academics, sports, working, and social activities.
However, I always ensure that I allot time in my daily life to do
service. While my service often benefits myself, it is important for
me to realize how service is truly about putting others' needs
before myself, and giving my time and commitment where it is needed.