Name: Rachael Bishop
From: Lexington, KY
Grade: 10th
School: Lafayette Senior High School
Votes: 43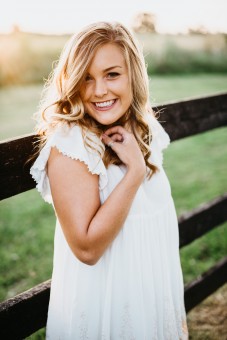 I found my purpose in life through a ministry called Serve the City. It is an
organization through my church that travels to downtown
Nicholasville, Kentucky, every Monday night from 6-9 pm to serve and
love the children and families that live there. I started going when
I was a sophomore in high school and have been every Monday since.
The kids welcomed all of us volunteers with open arms and wide,
sometimes toothless grins. They didn't care who we were or what we
did; all they wanted was our undivided attention and someone to play
with them. We put down our phones and went back to the basics. We
drew with chalk and played hopscotch. Through STC I met Kendall and
Kabryn, two sisters who love getting their nails painted, playing in
the mud, and pretending to be cats. I met my friend Marvin and we
enjoy racing down the street on our bikes. I sit and talk with a
little girl who has become like my little sister, Jayda. She asks
questions about life and why bad things happen to good people. I was
there when she lost her dad to cancer, and I'll be there for her
and the other children when life gets tough again. These people have
rough lives, and it is our job as volunteers to love them and be
present for them when they're hurting. We are people to play with,
but also shoulders to cry on. The hardest part about this ministry is
leaving at the end of the night. There is always one more person to
love, hug, or play with and I am forever grateful for this
opportunity God has blessed me with.
Through Serve the City I discovered how much I adore children and how well I work with
them. I want to be a pediatric nurse when I'm older so I can care
for really sick children. That is what I believe my purpose in life
is. I think we all get so caught up in our "grown up" world that
we forget about the simple things in life. We forget to invest in the
next generation and teach them how to be tender, loving, and kind
people in a world that is so dark and cruel. There are children
growing up in broken households, searching so desperately to find
where they belong in the world. They are growing up without knowing
what it feels like to be loved and appreciated and it's time that
changed. We must teach them about who they are, before the world
makes them believe that they're something they're not. They are
loved. They are worthy. They are accepted. My goal is to come back to
STC in years to come and see the change we started now, in 2017.
There will be no more hatred and feuds between families, just
acceptance. It is our mission to teach the next generation about
love. So, it's time to do it and do it well.