Name: Olivia Elizalde
From: Orlando, Fl
Grade: 10th
School: Freedom High School
Votes: 1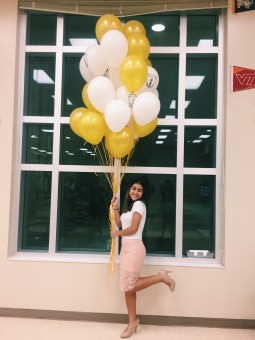 The motto "service above self" embodies the values which inspire me
to volunteer. I am dedicated to support any and all areas that may
need help or motivation. Community service involvement allows me to
enjoy relationships with similar spirited individuals. I coordinate
events for the clubs I am part of, and focus on the values of service
above self.

             The time I spend on community service varies. When I assisted with the
Hope Now Backpack Program, I worked 2 days to organize supplies. When
I work at the local Give Kids the World, I put in 3 hours for my
task. Time does not influence the impact of the work I put into each
activity. I am responsible for completing the specific tasks assigned
as well as maintaining a positive mindset and exhibiting good
leadership.
One challenge that I face is making sure that motives of the work I do is
not for myself, but for the community or those in need. One can
easily lose one's self in the motivation of receiving something in
return for their service, such as service hours required for
graduation. However, I treat all efforts as if I were not receiving
anything in return. The satisfaction of seeing how my work has
touched the hearts of the people I help, is what drives me to
continue giving. Each positive reaction shapes my development as a
better volunteer, student, and person.
My volunteer experiences allow me to focus on how my actions impact and
inspire those around me. I have a "forward looking" attitude in
which I create a goal or find a problem I can fix or manage, and
develop steps how to accomplish it. Forward looking people spend less
time on just meeting the problem with quick fixes, and more time on
the overall goal and steps to accomplish it. I plan to attend Rollins
College to complete and earn my Bachelors in Elementary Education. I
will not only seek knowledge, but life experiences in which I can
make more differences in the community. I dream to not just teach or
lead, but to inspire children and families to succeed in their daily
learning experiences. I hope to create an environment which allows
them to do so. Along with my career goals, I seek to change the way
people view the environment and people around them through
volunteerism.
Volunteering has shaped my development into an overall more positive human being.
I look forward to growing my perspectives and the influences college
will bring me as I step into new leadership roles and new
experiences. If I were to come back many years from now, I would see
that the impact I've made reached beyond what I thought it would.
No matter the size, it still creates a ripple effect. The ideas of
forward looking and service above self will remain in the places and
hearts of those who have been a part of my service.