Name: Kathryn Joyce Jackson
From: Maryville, TN
Grade: 12
School: Maryville High School
Votes: 74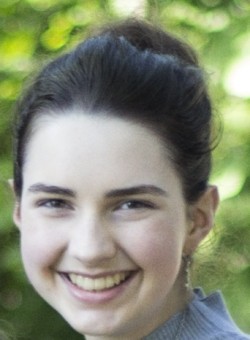 When
I was in seventh grade, I went to work at the local Pregnancy
Resource Center (PRC) for the first time. My grandmother had to watch
me on the day she usually went to volunteer, and she just took me
along with her. This was not a regular occurence until I was inducted
into the Junior National Honor Society in eighth grade. I was
required to complete ten hours of community service that year, and my
first thought was to complete them at PRC. Even though I only
volunteered one hour or two a week, I quickly became attached to the
ministry and workers at PRC. After my Honor Society hours were
complete, I did not want to stop volunteering.

PRC
offers services for both men and women concerning pregnancy,
including free pregnancy tests, free ultrasounds, parenting classes,
abortion counseling, and material assistance. My role was usually
simple: whatever was asked of me. Sometimes this meant cleaning the
bathrooms and floors. Other times it meant hanging donated clothes
and sorting them by size. I worked the hardest when it was time to
send out the annual newsletter or invitations to an event, and I put
in extra hours for the Super Hero Fun Run and the annual banquet.
Since
I plan to go into a career that is science and math based, my work at
PRC does not directly affect my career goals. However, my time spent
there was far from in vain. I love volunteering because it helps me
to be less self-centered. For a time, I focus on other people and
their needs. Sometimes my tasks at PRC seemed trivial (like cleaning
the floors), but by taking care of that, I allowed others more time
to complete more important tasks. I think that teenagers today feel
entitled, something I am just as guilty of as anyone else is.
Volunteering takes the focus off me. No matter where my life takes
me, that is a life lesson that I hope never to forget.