Name: Sandy Girgis
From: La Vergne, TN
Grade: 10th
School: La Vergne High
Votes: 0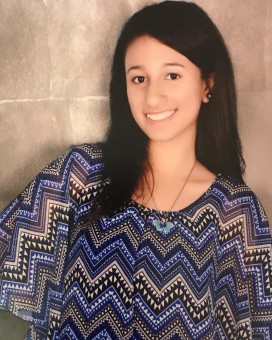 Sandy
Girgis
Service
About Self
As
President of Club Interact, I called a leadership meeting at Panera;
the meeting pertained issues from new service projects to club
requirements, but my main concern was finalizing a shirt design. All
seven of us had different ideas, but there was a moment when the
light bulb lit and we all agreed to have "Service" underlined and
then "Self." We decided, since Interact is part of Rotary Club,
we were going to adopt their saying "Service Above Self." At that
moment I realized the answer to a friend's question asked during
lunch earlier that day. "Why do you always volunteer at the public
library every summer?"
Three
days a week during summer, my alarm rings at seven, as I chose to
volunteer at the La Vergne Public Library from eight to one,
accumulating over sixty hours every summer since I was twelve years
old. The responsibilities are more than shelving books, but included
signing
children for the summer reading contest,
assisting
parents and children locating children's books,
vacuuming the carpets, assisting performers during the children's
shows, and more.
Perhaps
my biggest challenge at first was trying to understand the kids'
behaviors, such as why did they also got hyper with a magician verse
ventriloquist or why Lego's
was so popular; as time went by, I began to accept how their young
minds work. The satisfaction did not come from signing my hours off
or receiving free snacks, but from the hugs I received and the young
friends that I made. I inherited a feeling of goodness.
I
only hope that more children continue to visit the libraries, so I
can get more chances to heel that goodness. I pray that problems like
bullying, belittling self-interest, and lack of concern do not hamper
young minds from exploring the world around them. In fact, one of the
volunteer's responsibilities, in my opinion, is to excite these
youngest to give them hope at a better future through education.
Perhaps, these kids grow up to become scientist who cure cancer and
ambassadors who bring world peace. It can start from the love of
education and reading from a young age. Even though, I do not want to
become a teacher, the library experience helped me look forward,
defined as what I what I hope to achieve, through its reward of
goodness. That feeling helped me realize that I want to become a
doctor- an honest doctor- one that travels to the poor countries and
heals those who have no bed to lie on or a hand to hold.
At
that Interact meeting, I realized that I volunteered at the library
because I enjoyed that feeling of goodness and craved it. In a way,
putting myself self after others still gave me the feeling of
victory. Moreover, I learned that volunteering must be choice or else
one will not sense its reward. It was never about giving up time or
energy; it was about receiving love from your community, friends, and
even random strangers.