Name: Jenna Ramirez-Kirgan
From: Fairfield, CA
Grade: High School Junior
School: William Jessup University
Votes: 0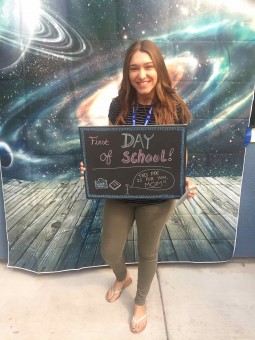 Serving
My
name is Jenna Ramirez-Kirgan. I am currently a college freshmen at
William Jessup University. Growing up, I remember my mother and I
would go with my church once a month to serve dinner to the homeless.
This is something that I genuinely enjoyed as I saw how it filled
them with joy when they saw that someone my age wanted to help them.
As I grew older, I became more involved with my church and started
serving in different areas such as guest services, the nursery, and
the live production team.
Over
the last three years, I have volunteered and given over 150 hours of
my time to my church. Most of this time was spent with the live
production team. This is where I discovered my passion for this field
of work. Before college, I spent an average of 5 hours a week serving
on the live production team at The Father's House. My service
consisted of projecting lyrics, videos, graphics, and bible verses
during a service. It was my job to make sure that the timing and
content went up onto the screens to support the message.
My
church hosts various conferences and concerts in our facilities. One
of the challenges that I faced when serving was during high profile
events. We would have well known speakers come from different parts
of the country, as well as two-thousand students from the area, which
could be extremely chaotic. Working in this environment can be
extremely stressful for someone who has never experienced it before.
However, going through this experience has taught me how to handle
the stress on my own and how to fix problems when they arise.
Serving
on the production team at my church has opened many doors for me. I
discovered that I love the work that I do and through this volunteer
experience, I have been hired on staff through my church to be the
Production Lead for a satellite campus. I see these activities as
forward looking because my previous experience was just the beginning
to the rest of my career. All of the volunteer hours that I engaged
in over the years were stepping stones to where I currently am with
my life. Forward looking to me is asking myself, "How is what I am
doing going to affect myself or others in the future?"
I
hope to help lead people to their true potential through Christ
through my past and current church service. I want to see a change in
my community as we open the doors of new church buildings for people
to come and feel welcomed. I believe that all volunteering makes a
difference. I think that making a difference is one of the most
valuable life experiences that we can have. No matter how big or
small, whether we see it or not, volunteering to help others is
fulfilling and makes a difference in someone's
life.