Name: Hannah Ullom
From: Bloomer, Wisconsin
Grade: Sophomore
School: McDonell Area Catholic High School
Votes: 0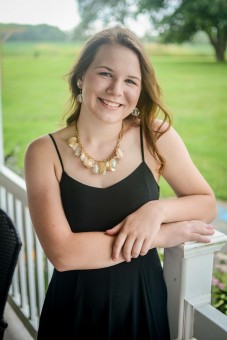 When I was a
freshman, I transferred to a high school out of my city. The only
knowledge I had of anyone was the girls I had played sports against
during my middle school years and no one else knew me either. I
played volleyball, but I was continuously with the people that I
already knew. I remembered that during my new student orientation
that they had recommended looking into Student Ambassadors, a
student-driven service group. I had plenty of volunteer experience
throughout my grade school years, playing Bingo at the nursing home,
and helping at the local food pantry. I applied before I started
school and was admitted. After the first year, the advisor approached
me about joining her small group of student leaders, the students who
chose volunteer projects and plan our events. I was elated to be in
the group and tried to contribute as best I could.
I have put at least
a 50 hours a year and almost 300 hours in the last four years into
this volunteering project. It is hard to have weekly meetings even
with our small leader group as many of us are in different groups and
spread our commitment thin. Irregardless, we have weekly meetings
where each committee reports on the work they have done in the
previous week. I am currently chair of our party planning committee.
We have a yearly party to celebrate our accomplishments, and be in an
informal setting. I have been working to find out what the other
ambassadors would like to do, a date and contacting the person in
charge of the area we would like to go.
The most difficult
part of my volunteer work is having time. There is only 24 hours in a
day and seven days in a week. I have a part-time job and other time
consuming engagements that I have to attend to, and at the end of the
week realize how much I either got done or how much stuff will carry
on into the next week. It is a task in itself to decide what to
dedicate the majority of my time to for that given week. The most
rewarding experience I have had as a volunteer is my work with older
people and younger children.
My volunteer work
has given me many skills, better communication skills, organization,
and new friends. My years as a Student Ambassador are coming to an
end, they were some of the best years of my young life. I hope to
watch the program flourish and see extended success.