Name: Hailey Nicole Hudson
From: Roswell, Georgia
Grade: Sophomore
School: Roswell High School
Votes: 57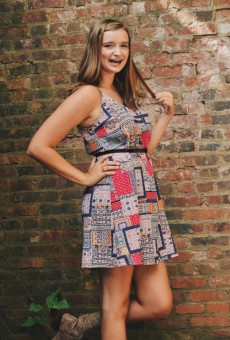 Hailey
Hudson
Small Deeds Change the World
Volunteering is a strong passion of mine. I love to hold every service project
near and dear to my heart, but one project that I do stands out above
the rest. Every Saturday morning, for about three hours, from
November until March, I assist in a special needs adult bowling
league program, called Noah's Ark. I serve as a mentor/aid to one
lane with three bowlers, Matthew, Lisa, and John David. Each one of
my bowler friends are unique in their own way. Matthew is in a wheel
chair, but it does not hender him from being a DJ at the local
recreation center. Lisa is Matthew's girlfriend, and she enjoys
sitting down and telling me all of her stories from their
relationship. John David has his own bowling ball that has cow spot
designs on it! He is so cheery and fist bumps/high fives every
person that is near him when he makes a strike. I have formed such
an amazing bond with each of them, and they have all impacted me in
so many beneficial ways. My responsibilities as a volunteer include:
rolling Matthew up to a ramp and retrieving his ball so that he can
roll it down the ramp, reminding Lisa and John David when it is their
turn to bowl, being a person who listens, being a hug giver/receiver,
and overall a person who loves on these people no matter what they
look like. The love that they share with me and that I get in return
from them gives me the most satisfaction. They have all impacted me
more than I could ever affect them simply by the way that they love
others. I have learned how to love unconditionally and how to accept
others for who they are. I have also learned patience through this
program. Many times it takes a while for Lisa to tell her stories,
or she will tell me the same story three times in a row. I have to
constantly make sure that I keep a big smile spread on my face and
react with as much emotion as I can which reveals the importance of
her tales. My biggest challenge has probably been the Saturdays when
I don't feel like volunteering. After I overcome the struggles of
exhaustion or a foul mood, I realize how selfishly I am acting.

This experience has influenced my life by allowing me to realize that I want to become a
Speech Pathologist and work with special needs. I love the fact that
loving on the disabled population can truly change the world. It
leaves a lasting impact on both the volunteer and the special person.
I hope that ten years from now I can reflect on this bowling program
and see all the rippling effect of changes. It is spreading light
and happiness to the community, and I cannot wait to see how it grows
and develops.