Name: Alexis O. Blake
From: Dayville, Connecticut
Grade: Sophomore (a senior now)
School: Killingly High School
Votes: 0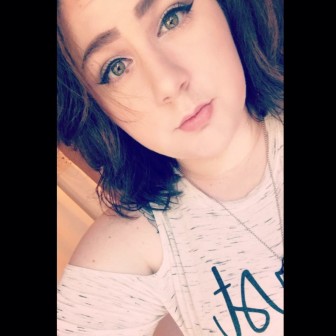 Upon
entering high school, I found myself wanting to spend my free time
volunteering in a position where I could really impact another
person. Rhode Island's West Shore Health center made a huge
difference in my life. Not only did I have something to distract
myself from fear of life caving in again as it had in my difficult
past, but I had a purpose. A small and seemingly insignificant one,
but to me it was inspiring. I became one of the youngest aides ever
volunteering ten later working in the facility. I tended to the
entire first floor, in a once-in-a-lifetime opportunity. Sometimes,
my shifts would be from 11 in the morning to 7:30 at night which was
a lot for an AP and Honors high school student on the precious
weekends… but it was worth it. The experience made me realize how
essential helping others is to my success and happiness. Smiles I
caused may as well have saved me from my PTSD, anxiety, and
depression.
The
only downside to working at a nursing home is the loss. The residents
are all your family. Whenever I face that familiar sadness, I allow
my heart to overflow with gratefulness for the memories and lessons
the elderly have shared with me. They have given me so much.
Perhaps
the most important experience I had working was the day I decided to
give back. I purchased some stuffed animals to hand out to the
residents whose smiles made my day every time I worked with them. I
learned how important it is to always give back, to show
appreciation, and to work hard for the bettering of others because it
can only better yourself.
When
my grandfather passed away last September, it really pushed me to be
the best I can be. In school, I struggled from the loss but worked
hard and made up nearly a month of work, scored high on tests, and
raised my grades. Without volunteering, I would have felt absolutely
lost, but it gave me the drive I needed to be able to keep
volunteering, and taught me more than ever just how important it is
to have faith in yourself and in what you do.
I
recently have been accepted to Springfield College, a place where
community service is important to the culture there. I hope I can
continue to give back to the world, and eventually incorporate
helping others into my life no matter what career I end up in. The
reasoning is not just selfishly because it brings me joy. Sure, it
may not seem like what I do really makes a big difference to most,
but to me? Even if only a small group of elderly get to live more
comfortably and happily, then working my butt off is definitely worth
it and it does not bother me if the effects are not making a huge
difference… the passionate love I put into the world can only grow
from here.