Name: Delaney Marie Schumacher
From: Mineral Ridge , Ohio
Grade: 12
School: Mineral Ridge High School
Votes: 2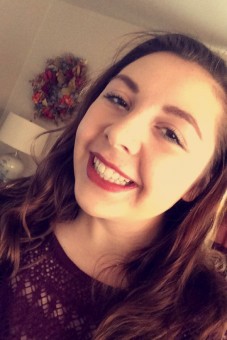 Something Simple Can Change a Life
The bible verse that comes from Luke 6:38 states, "Give,
and it shall be given unto you; good measure, pressed down, and
shaken together, and running over, shall men give into your bosom.
For with the same measure that ye mete withal it shall be measured to
you again." This verse truly sums up the value and the meaning of
volunteering. Last summer I joined my church's mission trip team
and we went to Woonsocket, Rhode Island to help repair homes. Let me
just say that mission trip seriously changed my life, and that is no
understatement. I experienced a new type of living, where homes
needed physical repair and the people needed emotional repair. When I
arrived at my residents' house I was very nervous because I never
did home repair before and I wanted them to have the best possible
repair for their home. My mission crew and I painted two rooms,
repaired a porch, and gave our residents a roof. It was challenging
entering into a new environment where I put pressure on myself to
give these people something that could change the way they were
living. Ever since that trip I fell in love with mission trips. My
church does several trips every few months on weekends. Every trip is
at least three hours, but mostly they are around six hours at a time.
The Rhode Island trip was a week long with approximately seven hour
days. I also volunteered at a mission barn to help build a ramp for a
family who had been waiting over two years to have this ramp for
their wheelchair. Also, we helped pack buckets that were filled with
cleaning supplies to donate to hurricane victims. We also, packed
personal hygiene products to send over into the Middle East. Another
trip I volunteered on was "Project Feed." This is program is
where we packed 50,000 meals in one day. Of course, there were so
many people who came to help, but it is the most humbling feeling to
know how many meals we all packed in one day and that I was apart of
that. I feel so satisfied and complete when I give back to people in
the community. My volunteerism helped touch lives and helped so many
people that I may never meet. I learned volunteerism helps build
character and it helps put a perspective on the things we should
appreciate. I learned from all these trips that I am so lucky and so
grateful to have something so simple as a toothbrush, which so many
people take for granted. It is surprising how many people do not even
own one because they can not afford it. Ever since my first mission
trip to Rhode Island, I will always do mission trips for the rest of
my life. In fact, I am "forward looking" to become a missionary
and teaching English in Spanish speaking countries. I want to give to
people and be generous in the honor of the Lord. I hope I foster the
world by sharing the word of God and helping to change lives for
people that need help. I want to bring them hope and change the way
they live by the physical gifts I have given, and lead them to the
emotional support of God. I know now, that even the simplest thing
does make a difference. Whether that be giving my time, my work, my
money or whatever it may be, I know that I have made a positive
impact while touching many lives throughout my volunteerism career
and I will continue to do so.