Name: Cooper Tavss
From: Miami, Florida
Grade: 10th Grade
School: Coral Reef Senior High School
Votes: 0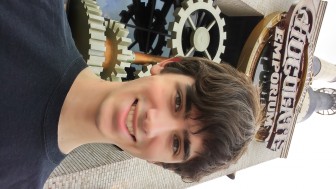 Just like teams, impacts are made through the sum of their parts. In
my case, there are a great many parts. I've been everywhere around
my community volunteering for kids of all ages whether it be in the
form of teaching 12th grade math, supervising small
campers, or simply playing games.
While I've helped educate kids of all ages in academic subjects,
I've found that a lot of my volunteering ties into youth programs
of all types. Being Jewish, I grew up getting my religious education
at my temple's religious school. There we formed a sort of family
and I wanted to continue with that family for as long as I could.
Thus, I volunteered weekly for the following three years after
graduating as a student. I met new generations of kids, teaching them
Hebrew and important life lessons from Judaism in the process. It
wasn't just teaching them religious values, but how to be good
people.
I have fond memories of going to summer camps. They just made my days
all the better and gave me something fun and consistent to do. That
was a feeling that I wanted to pass on. I volunteered at a bunch of
local summer programs where I was paired with kids in groups large
and small. With one camp, I was assigned a group of 30 campers for 10
weeks and managed them throughout the day on field trips and in
setting up fun activities. Getting to know everyone at once was
challenging so I assigned nicknames that stuck throughout the whole
summer. It helped me level with them to where I helped work out
problems with other campers for them and encouraged them to work in
teams.

This continued in other summer camp programs as well. One of them
being the Friendship Circle, a camp dedicated to giving kids with
special needs a buddy to bond with for part of the summer. My camper,
Noah, was particularly mute and could only communicate through a
vague use of hand gestures. I was a bit frightened at first as he was
big and sometimes unpredictable. But, with time, I learned a lot
about how to accommodate people like him. Using calming techniques I
had learned and by simply engaging with him like he was anyone else,
we had a great time on trips, games, and other activities. He wasn't
able to tell me, but I could see that he was having the time of his
life through all his smiles and laughs. In the end, I think I managed
to make these kids' summers (a time when kids should be living life
to the fullest) that much better.
My community volunteering has been many things. Those things are no
charity works, but in a time in their lives when they're so
susceptible to abuse or bullying, I've been there doing my best to
not just teach kids the lessons for school, but the traits of being
good people, something that the world desperately needs.