Name: Antonina Rizzo
From: Sterling Heights, Michigan
Grade: 10th grade
School: Henry Ford II High school
Votes: 0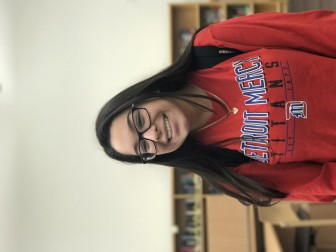 As a bustling teen in this crazy world you see
all the wrongs that humans are accustomed too. One thing that I
cannot stand in life is when you see someone bully another child
because of a mental disorder. By the time I became a junior in high
school this idea had changed me and I had found an organization named
"Play Place for Autistic Children" and had automatically loved
it. Ever since my first time helping out there I haven't turned
back. When I can, I try to go there at least 2-3 times a month. I
chose to put all my efforts in this organization because I feel so
close to all the children that come into the building. I love the
feeling I am awarded with when I leave the organization; the feeling
of making a difference in the world. There are many responsibilities
when volunteering at 'Play Place'; such as interacting with the
children and working the art and swing station. The thing that has
made volunteering at such a great organization like this one worth
wild is the look on each child's face when they get to go inside of
a movie theatre for the first time or getting to be themselves in a
safe zone that allows the 'norms' of the world to evaporate as if
they were never there. I have learned how to better treat my
companions in the world, and have learned that there is no 'normal'
person, that each individual is different and that we are all special
in our own way.
These interests in working with autistic
children align with what I plan to pursue in the future. I hope to
one day acquire a degree in nursing where I can help people of all
kinds be themselves and aid them to be healthy and unique
individuals. My activities now are preparing me for all the sadness I
will face in my future career, although now that I have volunteered
at "Play Place" for over a year now I do not see this work as sad
I see it as a gift. To me forward looking means preparing you for
what is to come in life whether it is a positive or negative action.
I would hope to continue volunteering at "Play Place" and see if
I can broaden my knowledge on the world of Autism and make it more
widely known to those who do not take the disorder more seriously. I
do feel that in thirty years that my efforts had made an impact in
some way. I feel that these kids that I interact with every month
feel as if they have a friend in the world that does not see them as
'different' but just as normal as you or I. The volunteer work I
participate in not only makes me a better person but allows me to
make others feel just as good on the inside as I do.