Name: Hannah M Santens
From: Tracy, California
Grade: 10
School: Merrill F. West High School
Votes: 0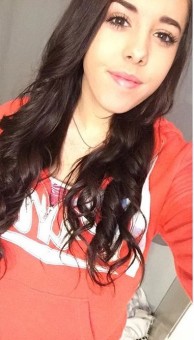 As
a kid, my fondest memories were those from summer camp. From the time
school let out to the day camp started, I couldn't wait. Stepping
out of the car and running to find out which counselor I had was the
most exciting part. For the past four years I've spent my summers
volunteering at the same camp I once was a camper at. Starting the
summer going into my freshman year, this experience has taught me a
lot, like never carry a four-year-old through a canyon when he tells
you he has to go potty. Let's just say that didn't end very well
for me or my shirt.
The
best thing these children have taught me is accountability and
leadership. Knowing that if I have one kid or ten with me, their care
is being trusted under my watchful eye. Making these kids feel safe,
happy and taken care of is the best part of the job. Working with
each age group has a new set of challenges, each bringing out a new
leadership quality within myself. Whether it's making sure they all
get along or something as simple as making sure they don't get lost
on their way to the restroom, there's always a new task at hand.
Keeping a group of nearly fifteen kids together, organized and
satisfied with an activity, at times seems impossible, but rewarding
when they run to tell their parents about the amazing day they just
had. Overhearing the kids tell the many stories of their day, making
sure not to skip a single detail, is the best when you know these are
the memories they're going to hold onto.
Growing
up going to camp each summer, I always looked up to the leaders
around me, striving to be one of those "cool"
kids one day. Now being the person, the kids look up, it's showed me
how my actions and attitude affect those around me. Being a positive
and impactful role model to these kids is something I'll always
remember.
Since
volunteering, I have realized why this job has been so special to me.
Not only does it bring back the sweet childhood memories, but it has
brought out my true passion for working with children. After
graduating high school this coming year, I intend to enroll in a
local junior college then carry out a four-year degree to become a
public school teacher.
To
me, "looking forward" means being able to carefully shape and
inspire young minds to create a better tomorrow; to teach children to
follow their dreams and to fill them with compassion and hope for the
future. Through my volunteer activities, I wish to see the children I
work with motivated to pursue their passions and become upstanding
citizens. I know from personal experience that the volunteer working
I am doing today has made an impact on the kids I work with, just as
volunteers made an impact on me when I was a camper.