Name: Mackenzie Lynn Pruitt
From: New Bern, NC
Grade: Sophmore
School: Havelock High School
Votes: 0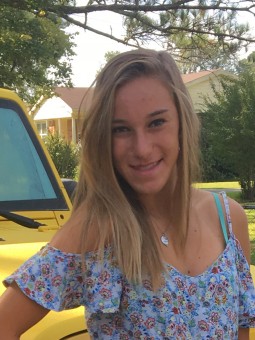 Suns Out Help Out
My
name is Mackenzie Pruitt. I am from Havelock, North Carolina and
currently a senior at Havelock High School. Although being labeled as
a senior, I have been taking college classes since my junior year.
Coming from a small town where everyone is like family, I am commonly
known as the "soccer girl". I committed to play soccer at
Pfeiffer February of my junior year and cannot wait to start playing
in college. Soccer has been apart of my life as long as I can
remember, but I also am very active amongst my community. I feel that
it is important to help whoever is in need every moment possible.
From working at the band competition from start to end, to donating
clothes and food to the local Good Will Foundations, giving a helping
hand has been in my nature. Over the long summer breaks, there's
nothing I would rather be doing than spending it at the beach. I
decided the summer of my junior year that I wanted to make a
difference and help others while doing things I love. In the later
part of June, I set out to Cape Lookout National Seashore to
volunteer at the Great Island Cabins. Although, I did not handle this
task alone and my mom who loves the beach just as much as I do came
as well.
From
the end of June to the early part of August, I stayed on the island
and worked as a cabin caretaker. I chose to do this because I could
help others, but still be surrounded by something I love. Each day, I
went into the main office wrote all the information the visitors
would need such as, the weather report, tides, and fishing report,
greeted each ferry and helped any visitors in need of finding their
cabin, cleaned the bathhouse three times a day, picked up any trash
on the beach and in the cabin areas, and cleaned off the fish
cleaning station. I normally worked from eight until four with an
hour or two lunch break. The most challenging thing being a volunteer
at Cape Lookout was being a ways from home. Although, we had
electricity and all the essentials you could find in an ordinary
home, it still was not my home and I missed my dad and dog all the
time. The scariest part was when a storm came through and being on an
island, you're surrounded by water, and besides the ferries, there's
no way off the island, just as the storm began to pick up a ferry
came in and it was my job to meet everyone. The wind was going crazy
and the rain was coming sideways I eventually got all the cars off
and people off the boat and just when I did, a bolt of lightning
struck right on the other side of the sound. I can still remember
clearly how bright the flash was and when I tell you I have never ran
that fast, I am not joking. The best part of my job was while I was
clocked in and there would be kids down by the sound fishing and
trying to catch bait and I had the opportunity to help them and teach
them. I would teach them to catch fish with the cast net and bait the
hook and the look on their face and the smiles they had was an
amazing feeling. In total for the summer, I clocked in 550 hours.
Volunteering at Cape Lookout taught me that sometimes you have to
just go with the flow because nothing will really ever go as planned,
and I feel that it is an important life lesson and once you learn and
accept that, you can live a happier life.
Looking forward in
my future I am torn in majoring in exercise science and becoming a
physical therapist or environmental science and going on boats
tagging sharks and monitoring their travel patterns. I feel as though
what I did on that tiny little island will have an effect on many
people because the visitors may return home and tell others about
their experience drawing more people out to the outer banks and
restoring the National Park Services. To me forward looking means
slow progression over time because nothing will happen instantly. The
following summer, I got a paying job working at the Grande Villas at
Indian Beach, so I was not able to volunteer again, but my mom was
able to go back. Even though it had only been a year, the returning
people would ask my mom "how I was doing" and several other
things. It was nice to know that people were appreciative for the
things I had done and still remembered me. I was able to take off
work over a weekend and go over to the island. The people there
welcomed me back with smiles and overloading questions about my job
and soccer and it was like I had been there the whole time. I feel
like I have made an impact on the people that come back every year,
and in ten years if they continue to come, they will still remember
me. Being able to connect to the families and the different people
that come out there was what made my volunteering work seem like
nothing. After I graduate college I want to play professionally in
the National Women's Soccer League if possible and on my free month
in summer I want to go back and volunteer again at Cape Lookout.