Name: Sydney Budelier
From: Waukesha, Wisconsin
Grade: 11th Grade
School: Waukesha North High School
Votes: 0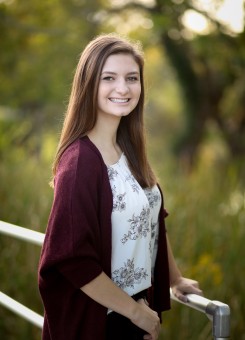 Take
it from the Top

Growing
up, my parents have always taught me how important and how valuable
it is to volunteer and give back to my community. Starting at five
years old, I participated in two annual food drives annually. I also
dedicate 50 hours of my summer volunteering at Girl Scout Day Camp.
In addition, I rake leaves for the elderly, make care packages for
college kids at my church, etc. I also earned my bronze, silver, and
gold award. My bronze award included making alphabet books for
visually impaired children, and my silver award included making
stools and painting a mural for the Women's Center.

Although
I did a lot of volunteering growing up, my main project that I worked
on was for my Gold Award. I noticed that there weren't many boys
at
my dance studio, and when I go to dance competitions each studio only
has one or two boys. I believe the root cause for this is young boys
don't get any exposure or opportunities to dance. For my project, I
created, wrote, and submitted a Dance Merit Badge for Boy Scouts of
America, I created and taught an annual Cub Scout dance hip hop
class, and I created and held free hip hop dance classes for boys in
elementary schools in Waukesha and Kettle Moraine school districts. I
spent a total of 112 hours on this project over the course of a year.
As a volunteer, I had many responsibilities including talking in
front of audiences, coordinating, directing, instructing, and
organizing. Throughout this project, my biggest challenge was handing
out flyers. I wasn't allowed to pass out flyers on school grounds
without permission, which made it difficult to market my classes. To
overcome this, I went through neighborhoods and distributed the
flyers in their newspaper boxes. I also got approved from Pick n'
Save to pass them out there as well. In addition, I filled out the
paperwork to get them approved for the schools. I was so satisfied
the day of the classes, when I saw how many boys actually came. I had
75 boys register for the classes, and almost 20% of them signed up to
take recreational classes in the fall. I learned how to be a leader,
and direct. I also learned that if I break up a project into small
pieces, I can accomplish anything.

To
me, "forward looking" means my project will be sustainable and is
helping better the future. My project is sustainable because the boys
will go out and tell their friends how much fun the classes were and
hopefully return with their friend at a later date. I also created a
video about it and put it on social media. I made a difference
because I helped boys learn the art of dance in my community and
possibly nationally. In the future, I think I will have made a
difference because I will have hopefully changed the perception in
some boys minds that dance isn't just for girls.