Name: Isabelle Newcomb
From: North Highlands, California
Grade: 10th
School: Mira Loma High School
Votes: 0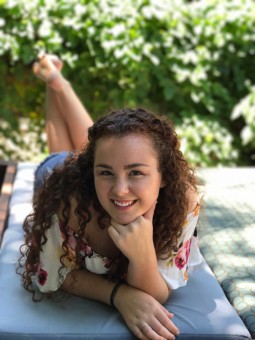 It all started one summer night while all of my friends sat around a
BJ's restaurant table. My friends and I realized the overwhelming
feminine issues surrounding the female homeless population in our
home city of Sacramento, CA. There is a large homeless population in
Sacramento, many of these being women. As more fortunate women we
realized that we take feminine hygiene products, deodorant, socks,
shampoo, etc. for granted. Feminine hygiene products are an ongoing
cost every month, something homeless women cannot afford. After doing
research we found out that the most asked for supplies at women's
shelters are bras and hygiene products, thus forming Mira Loma High
School's Build-a-Bra.
I am the co-founder and treasurer of Build-a-Bra, formed in September of 2016. Our goal
is to collect donations of used bras, hygiene products, and hold
fundraisers to buy hygiene products, socks, deodorant, etc. to donate
to local women's shelters. As the treasurer I am in charge of all
of the fundraising endeavors of the club. We meet every two weeks and
in between those meetings we hold fundraisers and collect donations
from our donation boxes located throughout our school.
One challenge we faced in the beginning was simply getting people to join
the club. We had several dedicated members but in order to make a
real difference we needed more. This current school year we have
gained over 15 more dedicated members that come to meetings weekly.
Being able to go to the women's shelters ourselves and drop off the
donations gives me great satisfaction because I can really see where
all of our work is going and be able to help out women just like me.
I believe "forward looking" to something that urges progression for
everyone to be given equal opportunity. Build-a-Bra is forward
looking because we help to give women that confidence they need in
their own skin in a new bra as well as save money on feminine hygiene
products every month. Build-a-Bra seeks to give awareness to the
people around us of the ever growing issue of homelessness,
especially with women in the Sacramento area. Homelessness has risen
by 30% in the Sacramento area since 2015 and will continue to grow if
nobody tries to help out. Build-a-Bra allows for more short-term
advantages but in the long term I hope to spread the word of our club
more to allow for more bras a money to be raised and possibly start
Build-a-Bra in other locations of the United States. I have helped a
girl in New Jersey start her own Build-a-Bra club at her school which
means we are one step closer to reaching our goal of awareness
outside of just our high school.