Name: Bryce Ethan Waller
From: West Memphis, Arkansas
Grade: 10th
School: West Memphis Christian School
Votes: 0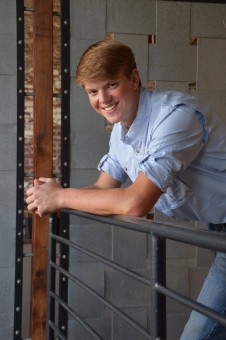 Bryce Waller
644 Evelyn Rd
Marion, AR 72364
901-871-3160

Teach Giving Back to our Future Leaders
Oscar Wilde is noted as saying "The smallest act of kindness is
worth more than the grandest intention." My acts may not always
make great impacts on the world as a whole but I feel like my small
acts make a small difference in others' lives. From my pre-teen
years to present, I have donating gifts or money, baked cookies, made
dinner, constructed a foot bridge, and started construction on a
church, latrine, and water filtration system. Through my actions over
the years, I am hopeful to will inspire others to "give back"
using their talents.
My
pre-teen years included me using money given to me as Christmas
presents to purchase toys for local foundation and for children in
the NICU at LeBonheur Children's Hospital. During those earlier
years, I opted to purchase toiletry items for the local mission to
give to the homeless people they housed. When I was in 10th
grade, I was able to go on my first mission trip to Dominican
Republic where I help to build a footbridge and stand up a basketball
goal for the children in the Batey. My group played with and taught
the kids basketball. While the footbridge was important for the
Batey, playing with the kids and ministering to them was important to
me as they are our future and need to be shown the importance of
giving back. The following year's trip was to Nicaragua where I met
the challenge to construct cinder blocks which would later use to
build the foundation for a church and latrine. On both missions, I
worked 10-12 hours a day for 7 days and was rewarded each day with
satisfaction of hard work for others benefit.
In
between mission trips I felt a longing to do more in my community
which led me to volunteer for a 5k for a hospital, collection of used
crayons to be recycled, and baking cookies for families staying at
the FedEx Family House. Families that stay at the house are from out
of town and are there because they have children receiving care at
the hospital. Making cookies for them to come back to is one simple
act of kindness for them.
My
future plans are to attend Arkansas State University to obtain a
doctorate in Physical Therapy. As a Physical Therapist, I can help
others each day while I earn a living. Once I have children of my
own, I would like to teach them to give back to our community. This
is my idea of forward looking. Teach and show our future leaders
through our examples of volunteering. While some things I have done
or will do for others may not stand the test of time nor be
remembered or noted by the receivers, I believe they truly have and
will make the small differences that people need at just the right
moment in time they needed those small acts of kindness.