Name: Joanne Tsai
From: Clifton Park, NY
Grade: 10
School: Shenendehowa High School
Votes: 0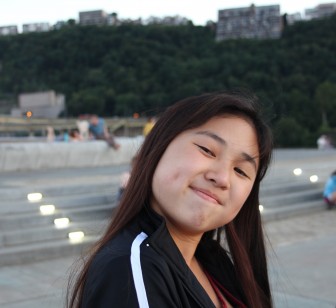 "Joanne, help! My code isn't working," a seventh-grader raised
his hand confused. Every Tuesday from 4:30 to 6:00, I volunteer at
the library to help teach and mentor elementary and middle schoolers
programming. My first formal exposure to programming was three years
ago at Twitter's Girls Who Code program. I realized that without
this experience, I wouldn't have discovered my talent for Computer
Science. In return, I wanted to help other young students to explore
the fascinating world of computer science.
"Joanne, help! I can't do this," a sixth-grader called to me,
panic evident in his voice. I volunteer at the local middle school as
a team advisor for their FIRST Lego League team every Thursday from
3:30 to 5:00. It was the night before the Lego competition and they
were running practice matches. As time was running out, the kids were
becoming more nervous and clumsy. Seeing the tears of frustration
streaming down his face, I created a list of simple step-by-step
directions for the team. "One of you can read the first step out
loud, and the others will say 'check!' when it's done. Then
we'll go to the next step." It was merely a simple piece of
paper, but the team regained confidence and returned to their
excitement about the game. I have learned a lot about robot
mechanisms over the past four years on my high school robotics team.
Coaching the Lego League is not only to help them develop simple and
efficient robot arms but also to plant the seed of inspiration for
STEM among our middle school students. Coaching them taught me
critical skills in communicating.
It is important to give back to the community. It gives me a strong
sense of satisfaction when I witness the positive influence I had on
the younger students. The most rewarding part was when I saw their
face light up with excitement, whether it was from their code finally
working or from the thrill of competition. As Maya Angelou once said,
"If you get, give. If you learn, teach."