Name: Anna N. Jordan
From: Candor, New York
Grade: 10
School: Homeschool
Votes: 0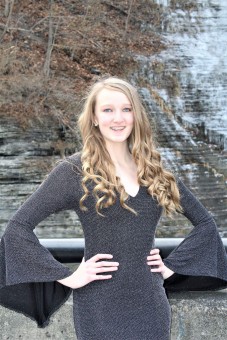 Throughout
my childhood, I was often asked, as most kids are, what I wanted to
be when I grew up. I never really had much of an answer. I thought I
wanted to work with animals, but I knew I didn't have the stomach
to be a vet. So what else was there? The answer was something I
stumbled upon by chance.
When
I was perhaps eleven years old, I read a book entitled Rainy
Day Rescue by
Inda Schaenen. The main character is thirteen year-old April, whose
parents were killed in a freak horse accident, leaving her haunted
and traumatized. Her gripping fear of horses is tested one rainy
afternoon, when she stops to aid those involved in the traffic
accident of a horse trailer. April connects with a special horse from
the accident, and eventually adopts him. Shortly thereafter, both
April and the horse that changed her life, begin volunteering their
time in the field of equine assisted therapy. This novel was the
first I had ever heard of horses—an animal I had always been
enthralled by—being used to help others, and I was intrigued. I
immediately gobbled up the following books in the trilogy.
Ever
since, the concept of equine assisted therapy has been in the back of
my mind. Though it is growing in popularity, it is not a mainstream
method of treatment, so I was always hesitant to offer it as an
answer to that infamous question. I wasn't sure if I could make a
career of it. However, the more research I have done, the more
determined I am to make it happen.
The
summer after my junior year, I began volunteering at an equine
assisted learning farm. This farm offers therapeutic riding for
children with disabilities; camps and activities for at-risk teens,
such as those with a drug presence in their household, or those in
group homes or foster care; and comfort-oriented nursing home visits
with miniature horses. Through this experience, my eyes have been
opened to the reality of equine assisted therapies and activities and
how I can use my love for horses, as well as for children, to have a
positive impact on the lives of others.

My
ultimate goal is to go on to a master's degree in Occupational
Therapy. I see myself as a pediatric occupational therapist, with a
specialization in hippotherapy, or therapeutic horsemanship. A book
that I read in my youth—likely for no higher reason than that it
had a horse on the cover—opened the door to a volunteer opportunity
that has led me down a path toward my future.