Name: Lily Muzzey
From: Gainesville, Florida
Grade: Muzzey.lily@gmail.com
School: Muzzey.lily@gmail.com
Votes: 0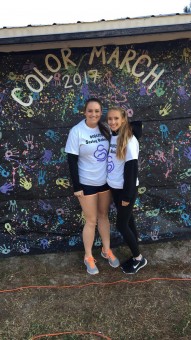 Balance 180 is a gymnastics camp for children with mental and physical
disabilities. During the summer of my freshman year in high school, I
volunteered at this program because I understood how an illness,
whether it be physical or mental, can change the way that people
perceive you. Given my own experience with mental illnesses in my
family, I felt sympathy for these children who face so many
challenges in their lives. I became the "buddy" for a young boy
with autism, which meant being a surrogate parent to him during the
camp. Acting as Alex's "buddy" presented many challenges and
rewards that I otherwise would not have experienced.

Alex, who has autism like other children with this disease, has trouble
communicating with others as well as sensory issues related to some
sights, sounds, and tactile contact. The camp was in a gym, so it was
loud and chaotic at times. When the camp director told me I would be
working with Alex, I was very excited because I knew that I wanted to
help Alex have a great week. After a week with this sweet boy, I
figured out what triggered his tantrums and what calmed him down. For
example, when other children would be sitting on the floor in a
single line, Alex would not want to sit on the floor because the way
the feeling of the floor bothered him. I soon realized that if I sat
on the floor and he sat in my lap, we then could participate in many
of the activities.           
Although, Alex presented me with many challenges, my "buddy" and I thrived
as the camp continued. As I discovered what soothed him, we could
enjoy the camp. By the end of the week, he did not even care when his
parents dropped him off, for he would run straight to me. Experience
as a camp "buddy" to a special needs child really opened my eyes
and led me to a firm conclusion: I want to work with children,
perhaps in a pediatric intensive care unit or in the neonatal
intensive care unit, for many of them may have various disabilities
or conditions significantly impacting their lives.


Volunteering at Balance 180 may not have made a huge contribution to society at
large, but it made an impact on me as well as this wonderful little
boy. By the end of the camp, I understood that just because a person
struggles with a disability does not mean that he is any different
than people without disabilities. I felt great satisfaction in
helping Alex have the perfect week, but I was the major benefactor
because I realized my passion for helping children overcome and
compensate for their individual challenges. Through this experience,
I have found my calling, and I will enjoy a future that impacts
children in a positive, endearing way.