Name: Kylie Elyse Jordan
From: Altus, OK
Grade: Sophmore
School: Altus High School
Votes: 0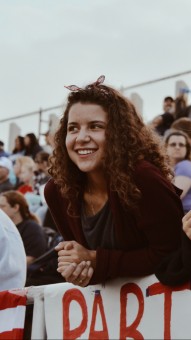 I live in a small town and have formed my community service to focus on those in the
community. I typically devout a minimum of 5 hours a week towards
these individuals through different activities. A recent one I
organized, as Vice President of Membership of National Honor Society
(NHS), was making Christmas cards for Soldiers overseas serving our
country. Other events I participate in through NHS this time of year
include: Christmas/Gift Party for the local Head Start, Harvest for
Hungry (collecting items to restock the local food pantry for the
holidays), bell ringing for Salvation Army, and Fundraisers for the
Tipton Home (an alternative home instead of Foster Care).
Outside of school organizations, I go to Tamarack Assisted Living Wednesday
nights to play cards, decorates cookies and converse. With First
United Methodist, I help administer a soup kitchen on the second
Saturday of the month for the community, called Love Feast. Just
before Thanksgiving, FUMC came together to hand out full Thanksgiving
meals with turkeys and ham to families who could not afford them. I
helped assist the families carry the groceries to their vehicles.
Another big event with FUMC is Project Noelle. This is similar to
the Thanksgiving event the church held but with toys for children of
all ages. We had parents come through and pick out gifts for their
kids to be wrapped at no cost. At this event, I helped wrap over 600
gifts with fellow volunteers. On the first Friday of the month I
have sold bingo cards at the VFW in support of Air Force Sergeant
Association (AFSA). Annually I place wreaths on Veterans' graves
with Wreaths Across America, and always enjoy making cookies for
single airman.
Overall, I feel the most satisfied when helping our armed forces because it touches
home for me, with having my mom in the Air Force. I know how hard it
can be without having family close by, whether it is a deployment or
reaching a new duty assignment. Through the variety of positions in
volunteering I have learned sometimes it is not the action or things
you are providing that mean the most but instead the conversations
and connection you form that can mean even more. It's seeing these
people you help as more than just an individual in need, because they
truly are so much more that have truly left a mark on me.
In the future I plan to be a pharmacist and continue helping. I hope to connect with
individuals at Texas Tech, the university I will be attending, to
join in on the actives they have to help the Lubbock community. I
want to bring the change I brought to Altus into Lubbock. Although
for other people looking in, that change may not be ginormous but
instead small. I like to think it changed that individuals' day
whether we conversed as I handed out items or bonded over cards or
even if it was a simple Christmas card to a solider.