Name: Lauren Castloo
From: Sour Lake, Texas
Grade: Sophomore 2015-16, Senior 2017-18
School: Hardin-Jefferson High School
Votes: 0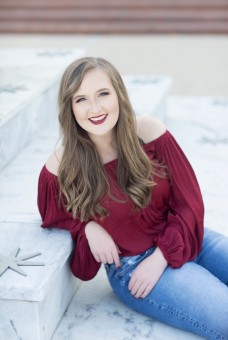 Lauren
Castloo
December
17, 2017
Voluntarily
Volunteering
Volunteering
is a vital part of life when there are so many people in the world
who just need that little ounce of kindness. Although some schools or
programs require volunteer work, I believe it should be completely
voluntary. A person should want to experience the thump of joy of
helping out people who are truly in need. I know that this isn't
always common, and that's what makes the upcoming generation of
volunteers so special.
Growing
up with parents who both have such big hearts, it was hard for me not
to have one as well. I have spent countless hours feeding the
homeless and volunteering at health fairs and my church. A large
portion of my time has become solely dedicated to my church youth
group. They're a second family to me who help me bring out the best
in myself by investing my time in worthy causes. With my youth group,
I've spent time feeding the homeless, making numerous meals for
them, and donating clothing items for them during the winter time. I
believe that one of the biggest challenges when volunteering is
putting yourself in someone else's shoes. Some people haven't
experienced struggles and don't know how to relate to all people.
The best part of volunteering is seeing the impact you have whether
it be the smile on someone's face or your community becoming a
friendlier atmosphere. You never know how much of an impact you'll
have on someone that you meet. This doesn't discourage me from
putting myself out into the world, it gives me the motivation to try
and change as many people's lives as I can.
In
college, I plan to study journalism. By doing this, I can give
volunteering a platform. I can become the person who speaks out about
reforms and how we can go about implementing help for the homeless
and other forms of volunteering. By focusing my time and energy on
helping the homeless, I hope that in my life span I'll get to see a
reduction in the homelessness population. I want to be the one who
can play a part in changing other's lives. I know that there can be
a change. I have met people before who once were homeless due to a
few bad decisions, leading their lives to spin out of control. Due to
dedicated people who just gave an ounce of their kindness and time,
these same homeless people were able to get a second chance at the
life that they had lost. Therefore, I'm not worried about the
amount of time it'll take for a change because I know with myself
and the help of others, there will eventually come a change.