Name: Keiarrah Thompson
From: Irvington, NJ
Grade: keiarraht73@gmail.com
School: keiarraht73@gmail.com
Votes: 15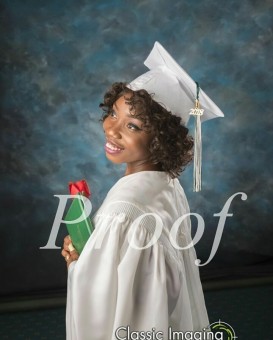 Growing up in Irvington has made me realize how fortunate I am. Its urban
environment largely influenced me to volunteer and help those who are
not as blessed as I am. I recently decided to volunteer at St. Ann's
Church Soup Kitchen. Though I have only had the opportunity to spend
one day there so far, this brief four hour experience of feeding the
hungry was life-changing, and I will do it again whenever I get the
opportunity.
I made the most out of the time I spent there, and was glad I had the
chance to take time out of my day to feed the hungry. Volunteering at
the soup kitchen came with numerous responsibilities. During my time
there, I cut tomatoes into small pieces, helped prepare plates, and
served salad, fish, rice and beans, and bread. Working alongside a
few of my senior classmates who had also decided to volunteer, we
handled all of the soup kitchen's primary positions to make that
day a success.
I did experience a few major challenges. A big challenge was trying to
keep the customers satisfied. Some came back, complaining about the
fish, and others wanted more food but we were only allowed to give
them one plate. Some complained about the two different kinds of fish
we were serving. One was fried, and one was a white fish that some
complained was too hard. I went to the Chef about the complaints and
he said they cannot switch the fish. It bothered me that the people
we were serving would not be full after having one of our meals
because they did not eat something that was giving to them.
What I loved most about volunteering at the Soup Kitchen was how many
people wished blessings upon me. Hearing them say "God bless your
soul" was the best thank you I could have received from them. I was
not expecting anything in return because I was there to help those in
need, but I ended up receiving their gratitude which is priceless. I
feel that it is important to help those in need, because one day you
may be in need and would want someone to help you. To want to help
someone comes from putting yourself in their shoes. When I first
heard about this trip and service opportunity, I knew I had to take
advantage of it if I really wanted to make a change.

            This volunteering experience has taught me so much about helping people.
Ironically, helping someone often helps you as much as it helps the
other person. Thus, meaning more opportunities and blessings coming
your way. Helping another person helps you to feel good about
yourself, and to want to do more to help others. I hope to inspire my
peers to similarly give back to their community because they
genuinely want to, not because they are told to. Again to rephrase,
if we put ourselves into the shoes of those in need, we will feel the
need to help not only others, but ourselves.