Name: Kaylee Pearlman
From: Anaheim, California
Grade: 9
School: Savanna High School
Votes: 82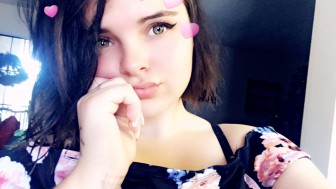 Kaylee Pearlman
November 19, 2017
Children of The Future
In my perspective, volunteering is a state of being. The art of taking
time out of one's schedule and using that time that they may or may
not have to help others is a special thing. For myself, I volunteer
at my local public library, with children between the ages of 2-10. I
chose to spend my free time there because I believe that these
children I see every week, are the future. I chose this place because
I grew up in the library that I picked. This same library was the one
that I would go to every day after elementary to do some homework and
pick out so many books, my mother would shake her head, every time.
This library was special to me because I had access to it. I had
access to expand my mind and be able to develop into the amazing
student that I am now. Therefore, I believe that these young minds
that I see, have the potential to do the same. I volunteer because
these kids can really be something in the world, they are our future
and they can make it amazing.
I
have been volunteering for over a year now, and have given over 24
hours in total to the library and to the children. I only go in on
Thursdays from 3:30 to 5:30, which is bilingual story time. Meaning
that I work with children for the entire 2 hours. I aide in story
time activities sometimes, for example, the games that they play
during the actual storytelling. After the story is over, there is a
craft that goes along with it. That's where most of my job and
connecting with children go along. I aide the children with crafts,
if they need any help. I am also grateful to be able to connect with
them and tell them that they are doing amazing and they can do great
things in this world.
My biggest challenge that I have encountered while being a volunteer has
been the thought that maybe I'm not doing enough to give back to
the world. However, then I think to myself that shaping the minds of
children is the biggest gift that I can give back to the world. These
4 or 5-year-old kids that I see every week are learning something new
every day. Knowing that I am helping them with their journey into the
real world, fills every sense of happiness that I could have. And
that right there is the biggest satisfaction that I have gained this
past year.
I've learned that children are really something. You shouldn't give them
glitter unless you want to find it still in your hair two weeks
later, and they can't sit still through a story for their life.
Nonetheless, the most important thing that I have learned this past
year was that I can make a difference in this world. It might not be
advertising for water conservation or pollution control; however,
shaping children's minds each week is just as important, in my eyes.