Name: Meghan Burr
From: San Ramon , CA
Grade: 12th grade in 2017-18 school year
School: Dougherty Valley High School
Votes: 0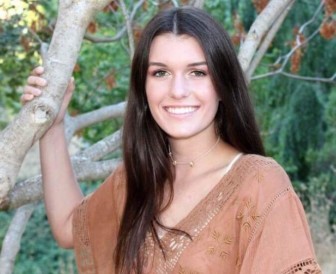 Foster Children are a hidden segment of our community. They come into the system broken and lost.
They are a product of a life of chaos and distress. They often arrive
with only the shirts on their back. They need our help. While in the
system they are not always safe. They often move from home to home,
carrying their belongings in trash bags. Their instability robs them
from many of the things most children take for granted: backpacks,
school supplies, pajamas, birthday parties, soccer games, and
Christmas presents.
I spent many weeks thinking about what I could do. I was 14 years old.
My passion was swimming. I wanted to help, but what could I do? I had
some experience volunteering and organizing. I needed to put it
together. After many conversations and meetings, everything came
together. In 2015, I founded Foster Fins.
Foster Fins is an organization that teaches water safety to foster children.
As children in the foster system are transient, most don't learn to
swim. At a minimum, they don't participate in events because of
embarrassment and safety. At its' best, learning to swim can lead
to participating in a sport. These types of experiences give them an
opportunity to thrive.
This organization was a perfect fit for me. It was an opportunity to share
my passion with children who could really benefit. Foster Fins became
my platform for putting my strengths to work. I am a leader who knows
how to mobilize my community. Knowing volunteerism is important for
youth, I engaged my swim community. It was easy to sell. Getting
swimmers involved with something that was swim related was desirable.
Matching foster children with high school mentors was magical. I
engaged corporate and community partners by meeting, presenting and
soliciting for resources and donations. I'm very persuasive. From
donations of swim suits and goggles, to free pool space to endless
volunteers, we had everything we needed. Except the foster children.
Foster Children are hidden. There are no databases and contact lists. I
worked with the agencies. I worked with the schools. I worked with
the county offices. I kept plugging away. I set up a website. I
started a Facebook page. I kept spreading the word.
Soon, they started to come. Our volunteers, all high school swimmers, were
excited and enthusiastic. I was nervous. What if they didn't like
us? The first day of lessons was incredible. THEY were scared. THEY
were nervous. THEY wanted to learn how to swim. We taught them. I
remember the feeling at the end of the first day. We were all
exhausted. It was incredibly emotional.

This propelled me forward. We continued to offer swim lessons. We offered them in 30-minute
increments. After each lesson, we noticed the children wanted to stay
and swim and play. Why? Because they had never had this opportunity
before. They felt safe.
Foster Fins is a work in progress. 500 hours and 500 foster children later, we remain committed to this
cause.