Name: Britnee Luke
From: Orange Park, Florida
Grade: 10
School: Ridgeview High School
Votes: 0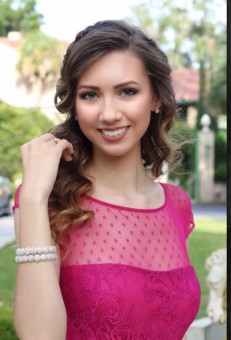 My story starts on August 8th, 2013. It's not always an easy one to
tell, but it's the details of my life that have crafted me to
become the humble leader I am today. Being only 13 years old, heart
surgery should never be on your list of things you've done. For me,
this was normal. Starting as young as 8 years old I was in and out of
multiple doctor's offices, having test done, poked and prodded, and
told "We'll figure out what it is soon". Eventually, with the
help of great doctors I would no longer have to live in this world of
wonder and fear. While I knew my heart was going to be changed that
day, I didn't know all the ways it would. I sat in the hospital
waiting room of Baptist Hospital waiting for the dreaded sound of my
name being called to start my heart surgery. I look up to find a
little boy, no more than 2 or 3 years old being pulled in a little
red wagon. I sat there in tears, thinking of how lucky I was to not
be in that position. My heart filled with inspiration as I watched
the little boy laugh and smile without an ounce of fear. Little did
he know, he had changed my life.
From that day forward, I wanted to dedicate my life to giving back. I
wanted my story to have a positive impact and encourage others to
never let hardships determine your outlook on life but to turn it
into something positive. I deemed it best to do this by leading by
example. It started with Ronald McDonald House, the place the little
boy was being assisted by. I wanted to give back to the place that
helped bring me joy in my time of need, the place where it all
started. I have spent many weekends cleaning rooms, cooking lunches,
and playing with children at the House. This sparked a love for
volunteering so deep that I still spend most of my free time helping
others any chance I can! I go through each day with a kind heart and
drive to always put my best foot forward whether in the acts of
volunteering, in the workplace or in my academics.

             My heart condition changed many things for me. Physically and mentally
my life was impacted, but I walked away with something bigger than
scars. I came out of it with a new positive outlook on life despite
unfortunate situations life throws at me. I keep my heart kind, and
choose to be a leader. If there is anything I live by it is this "Be
soft. Do not let the world make you hard. Do not let pain make you
hate. Do not let bitterness steal your sweetness." – Kurt Vonnegut
Jr.