Name: MaKenna Snider
From: Mercersburg, Pa
Grade: 10
School: James Buchanan High School
Votes: 0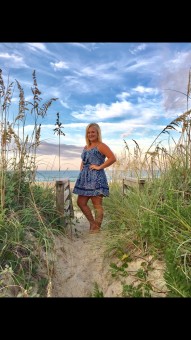 MaKenna Snider
The Patients that Turned my Life Around
My junior year of high school, I was accepted into the Healthcare Career
Institution with Chambersburg Hospital. Within this institution, I
shadowed nurses, doctors, surgeons, and specialists throughout many
departments. However, I was not just shadowing those individuals. I
was also considered a volunteer with the hospital. I was responsible
for assisting the medical professionals I shadowed along with
assisting the patients needs.
Patients can be stubborn. What fun is it to be stuck in the ICU for Christmas
with no family? For my one patient, that was her case. She was very
ill with Pneumonia and her lungs were beginning to give out. She had
lost her husband years ago, her children did not get in contact with
her much, as they were "too busy." As a volunteer, it was my
responsibility to do absolutely everything I could for that elderly
lady. I would sit with her and we would talk non stop. She would tell
me stories about her when she was my age, she made me think about my
life in a way that I had never thought of before. She inspired me to
be a better person. This patient was healthy for eighty two years,
and then she developed bilateral pneumonia in her lungs and slowly
her life slipped away from her. She told me before she passed, that
she did not regret a single thing she did in her life, she told me to
live every moment like its your last, "One day you can wake up and
be amazing and healthy, but the next day you could wake up and
realize that the next day might be your last." My patients taught
me many things in life, they made me realize that the little things
in the world matter the most. Sitting down and talking to someone,
holding their hand through the hard times, and being their shoulder
to cry on, was by far the most enjoyable experience I had as a
volunteer at Chambersburg Hospital.
Aside from providing emotional support and talking with patients, I would
often get them most things they would ask for. If they would ring
their call bells, I would go assist them and ask what they needed. If
they needed to use the restroom I would go inform their nurse so that
he/she could assist the patient in getting up and to the restroom.
However, if the patient was cold, I would go and get him/her a
blanket from the warmer. If the patient needed some more water, I
would review their diet chart to ensure that they aren't restricted
to liquids and I would get them some water to drink. In doing this
for the patients, I also assisted the nurses. I did the little things
for them so that they could focus on their patient next door who was
in critical condition and needed immediate medical attention.