Name: Ishani Minesh Desai
From: Rome, GA
Grade: 10
School: Darlington School
Votes: 0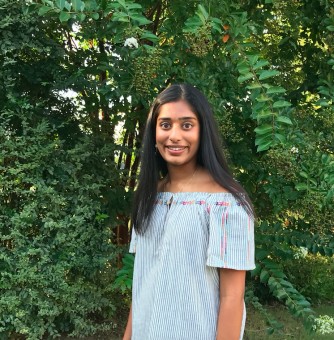 Ishani
Desai

Since I
started volunteering with the American Red Cross fall of my sophomore
year, I have served over 50 hours since then, during which I have
enjoyed several amazing learning opportunities and experiences.
One day, as
we were winding up and saying our goodbyes to the kids, I started
thinking. What would become of the empty pillowcases that the kids
decorated – the ones that we asked them to fill up with the emergency
supplies at home?
As a
volunteer with the American Red Cross, my favorite responsibility is
presenting the Pillowcase Project. My interest in the program was
sparked by an ad I saw on Disney Channel. The Pillowcase Project is
an emergency preparedness education program sponsored by Disney that
teaches youth from ages 8-11 about natural hazards and general
safety.
At
the beginning of each Pillowcase Presentation, my co-presenter and I
review the main goals: learn, practice, and share.
They
learn. We teach them, during my favorite part, about natural
disasters like tornados, earthquakes, and home fires; we teach them
how to cope with the panic that can consume people in emergencies.
They
practice. Together, we practice coping skills like "breathing with
color" and imagining their "symbol of strength" so they know
what to do if they get scared.
But
do they share? Do they go home and discuss what they learned? Do
their families care? There's no way to know.
In my
region, we have mainly reached out to kids at different Boys and
Girls Clubs, many of who come from low-income families. It's
unreasonable for us to expect their families to prioritize the
purchase of the emergency supplies over basic necessities.
To
me, these presentations are incomplete because we cannot ensure that
the third goal is being achieved.
But I think
we can really improve the chances of the "sharing" actually
happening and the presentation being followed through at home like
the Red Cross intends. I want to spread awareness about this problem
to local businesses to gather donations and start a fundraising
program. I hope to then partner with a company like Home Depot at a
local level to purchase the emergency items like first aid kits,
batteries, flashlights, and portable radios at a discounted rate.
After
becoming a Red Cross volunteer, my perspective of community
transformed. I now see it as more of a support system, a group that
includes people of different incomes and lifestyles. It is an
organization that helps connect our community rather than just an
organization that helps others in need.
To
me, something "forward looking" has a lot of potential for growth
and a lot of spirit and support. I hope that in the future, youth
volunteers for the American Red Cross will strive to spread awareness
of the benefits of this more effective version of the Pillowcase
Project and that the fundraising program will continue to raise more
money and inspire more youth to become involved with the Red Cross in
their own ways every year.