Name: Natalie Kuehl
From: Kaukauna, Wisconsin
Grade: Sophomore
School: Kaukauna High School
Votes: 0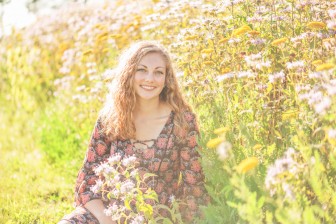 The Power of Promoting Creativity in Youth
My
participation in Destination Imagination has been a significant
aspect of my life. In Destination Imagination, students are required
to complete challenges by using their imagination and creativity in
theatrical performance and structural engineering. As a participant
in this club for four years, I have experienced the lifelong impacts
and lessons that Destination Imagination promotes. Thus, when
Destination Imagination was created at my middle school, I was eager
to become involved.
Due
to the newly formed creation of the team, I have only been active at
the meetings a few times to assist in the startup process. However, I
hope that I will be able to continue interacting with the middle
school students to keep them engaged with creativity and imagination.
At their practices, I provide feedback on their ideas by paralleling
a judge's perspective when reviewing their ideas and creations. By
being involved in the middle school program, I hope to inspire the
students to continue their participation in Destination Imagination
so that they can develop lifelong skills in problem-solving and
teamwork that will help them become more successful in high school
and beyond. Accomplishing this would be the most rewarding
achievement for me as a volunteer. However, despite my motivation to
keep students involved in Destination Imagination, I have encountered
some challenges.
While
working through the practices, it is often challenging to assist
students in their problems while not directly giving them my
solution. An important aspect of Destination Imagination is the
originality of the students' ideas alone. While I may have many
ideas that could greatly help the students, as a volunteer I am
unable to share my ideas. However, I have addressed this problem by
asking questions that could direct students to discover a solution.
This technique maintains the originality of the student's ideas
while allowing me to be an effective volunteer. While there are some
challenges in volunteering for Destination Imagination, the benefits
that students receive are worthwhile.
Destination
Imagination is an impactful club that teaches students essential
skills that ensure success as they "look forward" to their
future. As a volunteer in Destination Imagination, I assist students
in developing skills and talents in problem-solving and teamwork that
will ensure success in their future. However, these skills are not
only essential for personal growth, but also for the world as a
whole. Students could use their skills to develop new innovations for
the future or even solve global crises. As an adult, I hope to be
able to look upon the present world with a smile on my face. I want
to be proud of the world and know that all the volunteering I have
done in my youth was a factor in the prosperity of society. While
challenges do exist in managing a middle school Destination
Imagination team, I am proud to be a volunteer in a club that
encourages students to remain engaged with creativity, which will
eventually lead to prosperity in themselves, as well as the world as
a whole.