Name: Mitchell Robert Brundage
From: Parker, Colorado
Grade: High School Junior
School: Legend High School
Votes: 0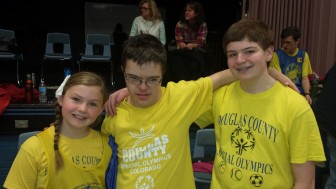 Mitchell
Brundage
Youth
Forward Scholarship essay
31,
December 2017
The
Power of Special Olympics

The
area I've chosen to volunteer with, is in the Special Olympics
basketball program. I chose this community service activity at first,
because my best friend wanted me to try it and I would receive
community service hours for it. My friend has down syndrome and I
felt it would be a fun experience to play basketball with him. I've
since then participated in this program every year in the spring for
a total of 10 hours. As a volunteer, my job was to aid athletes with
special needs to play basketball as a team. I was to make sure that
they stayed safe and have fun while competing against other teams. My
biggest challenge was finding what ways the athletes learned best,
and adapting my skills to fit their needs. I not only enjoyed helping
out these kids, but I loved to watch them learn how to play the game
that they would otherwise not have any knowledge about. I also know
just about every athlete on the team, and they know me as well. The
best part was having a satisfaction feeling that I had the ability to
help those in need and that I made a difference. I learned that
giving to others will benefit myself more than keeping to myself.
These activities/projects are opportunities for me to see what I like
to do and what I dislike doing. This gives me a chance to find what
jobs I may be interested in, or something that relates to my other
interests. I believe that community service activities will allow me
to find special characteristics to my personality that weren't
there before. I wish to take these changes with me throughout my
college career and beyond. If in ten or twenty years I returned to
this project, I would be thrilled to see if I influenced others or
helped them in any way.