Name: Anna Elizabeth Ganser
From: Wauwatosa, WI
Grade: 10
School: Wauwatosa West High School
Votes: 0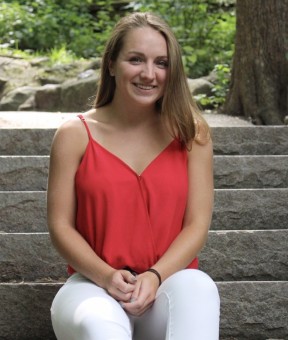 In the summer of 2016, I decided to travel 900 miles away from my home
to Charlottesville, West Virginia. I took on the challenge to connect
with people in the Charlottesville community and help them regain
their sense of freedom and independence. I went to Charlottesville
with my fellow church members as a mission trip. My church members
and I were assigned to be in one of over 50 randomized groups with
over 1,000 other students from all across the country. My group was
in charge of helping one of the most caring people I have ever met.
Her name is Daisy, and she was 102 years old at the time. Daisy has
been in a wheelchair for over 20 years and has not been able to get
out of her house due to the extremely steep stairs leading up to the
front door. I chose to help Daisy regain her ability to get out of
her house in order to develop a sense of independence again because
something similar happened to someone close to me. My grandpa passed
away from three types of cancer, lung cancer, brain cancer, and bone
cancer. He was a war veteran and my best friend. He was always moving
around either inside his house fixing something, outside in his
workshop, or walking the dog, he could never sit still. My grandpa
was then hospitalized and lost his ability to walk, run, or work due
to the powerful treatment he needed. He was never himself since the
day he was diagnosed, to the day he passed. I wanted to help Daisy
feel like herself again, and how she felt 20 years ago. I volunteer
frequently, most of the time with my church, Meadowbrook. I would say
I volunteer between 15-20 hours a month, not including mission trips
that I take once or twice a year. Building Daisy a wheelchair ramp
and seeing how beyond happy she was as she came outside her front
door and down to the ground, was by far the most satisfying thing I
have ever witnessed, not only in volunteering but in general as well,
it continues to give me goosebumps to this day. Though this
experience has been the most satisfying, it has been the most
challenging. I traveled 900 miles away in the beginning of July with
no friends, no phone, and no family. Not seeing or speaking with my
family was the hardest challenge about this experience. I have
learned a plethora of things while volunteering such as how much a
small task can mean to someone, how giving someone a simple gift such
as a pair of socks can make their life 100 times better, or how just
giving someone a hug or praying for someone could be the reason they
are still here today. I have learned beyond what I ever imagined from
my volunteer experiences and I would never, for the slightest second,
take my volunteer experiences back.