Name: Alexis Tinsley
From: Poplar Bluff, Missouri
Grade: Junior
School: Poplar Bluff High School
Votes: 0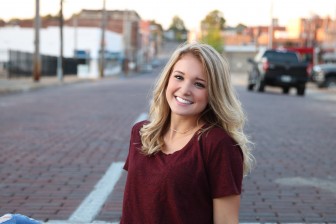 Alexis Tinsley
Poplar Bluff High School
Senior
5 December 2017
I have volunteered at a Red Cross Blood Drive. I chose to volunteer
here because I plan on going into the medical field and I assumed
this would be a good opportunity to interact with different people in
the community while getting exposure into the health field. I have
volunteered eight hours for one day for the past two years. My
responsibility as a volunteer was to be a "talker". This simply
means that while the community members were giving blood I would keep
them company. My biggest challenge as a volunteer in knowing exactly
what to do or say to the blood donators. I get the most satisfaction
from being able to take the individual's mind from giving blood and
being able to provide a positive distraction. I have learned from
volunteering that every individual is completely different and there
are so many amazing people in the community.
When talking about my future, it makes me kind of nervous but excited at
the same time. I plan on eventually becoming a doctor and by "forward
looking" I can participate in activities that build a résumé.
"Forward looking" means planning for my future and doing things
that will give me plenty of exposure to ensure that being a doctor is
the career path I want to take. As I talk to people when they are
giving blood, I can see the donors become more relaxed and
comfortable. While noticing this look, it made me realize that I want
to positively affect more people who are doing something they don't
necessarily like by making them feel more comfortable. If I were to
come back in ten, twenty, or thirty years I don't necessarily think
that as an individual I will have made an impact, but I do think that
volunteers like me will have made a lasting impression. If people
feel more relaxed in doing something that is unnerving, there is a
higher probability that they will want to do it again, thus providing
more blood supply to help those in need.