Name: Adam Bender
From: Glendale, AZ
Grade: High School Diploma and some College
School: Glendale Community College
Votes: 4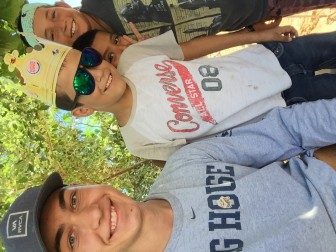 Adam Bender
Youth
Forward
At my local church I was given the great opportunity to lead a group of young fifth
grade boys week in and week out about the gospel of Jesus Christ and
the great things he has in store for these young disciples. After two
years of meeting new groups of young men, and then saying goodbye to
them as they move up to sixth grade, I made the decision of moving up
with them to the big age of sixth grade.
For two hours each Sunday I would hang out and teach the boys about the gospel and the
story of Jesus. As a youth coach I was in charge of making sure that
these boys had a take away each week to apply to their weeks. With
all the fun and games we would have, we grew strong as a group and
these boys had made friends with people they had never met.
Shortly after, the pastor of the youth ministry gave me the opportunity to be a service
leader; which in other words is the usually the older, wiser man that
speaks knowledge into others. While being poured into by the church
and the word of God, I was able to give my time to make new
relationships with all of these fifth and sixth grade students.
One of the biggest challenges I had as a volunteer was the stress that came with young
students. With a group of 15-20 young sixth grade boys, their
attention span was close to the size of a mustard seed. It was always
a challenge to maintain the attention of the younger kids while
trying to teach on a very important topic.
While volunteering, I have learned how to give my time generously, be patient, and open
to quick change. With these skills, it has allowed for me to be a
well rounded person and develop better relationships with others. It
has also allowed me to be more communicative with my family and
peers.
After my four total years of volunteering with my church, I would never have asked for a
better opportunity then I got. I will forever be changed by those
young men that I saw each week.