Name: Michael S. Godoy
From: Bellflower , California
Grade: Junior
School: Artesia High School
Votes: 0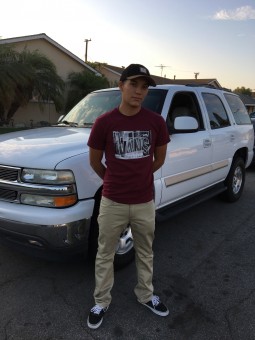 The
Youth is Our Future
I have chosen to volunteer with St. Dominic Savio, a school I had attended from
Pre-Kinder all the way to 8th grade. I Volunteer mostly with the
youth under the age of 14 and teenargers in highschool. I chose this
because I spent a lot of my life there and I wanted to give back.
During the school year I volunteer about 10 hours a week on average.
On mondays I am a youth leader at Youth Ministry, which is for
teenagers in highschool and I help to lead discussions and activities
about problems the youth faces today. On wednesdays we host meetings
to plan the next monday including the topics we will discussion and
activities we will have. On saturdays I am a leader at the Savio
Oratory, with the youth from 1st – 6th grade for kids who have
nothing to do. It is a way to keep kids out of trouble and teach then
a bit about the word of God. That is my average week during the
school year involving volunteering. Over the summer I spend about 301
hours hours volunteering at a summer camp called Camp Savio. I
started in 2013 as a regular counselor, and have moved up the ranks
and in this past summer of 2017 I was one of the head staff at camp.
We work to take care of children between Tk – 8th grade so they have
somewhere to be and learn instead of just staying home or getting
into trouble. My responsibility is to lead a grade with counselors
and make sure the day and field trips go smoothly. All the counselors
at the summer camp are between 9th and 12th grade with a handful of
adults and college students. Some of the biggest challenges I faced
as a volunteer is working with difficult children or parents. They
can be very unreasonable at times and I have to make sure to be very
patient and understand and make sure any problem or issue is
resolved. Just the fact that I am helping others and giving back to
my community and helping others grow is what gives me the most
satisfaction when volunteering. What I personally learned from my
volunteer position is patience. Many problems can be solved by just
being patient and really thinking before you do things. People can
get frustrated and angry quickly so I feel it is best to just take a
step back, take a breather and just relax and think. All this
volunteering help both the kids and myself. The kids get a chance to
learn and grow from people that aren't adults and are more relatable
to them. I am able to learn from the kids and strive to be a good
role model for them and learn amazing people skills and patience.