Name: Yasmin Kaitlyn Ballew
From: Manteca, CALIFORNIA
Grade: Junior
School: Sierra High School
Votes: 0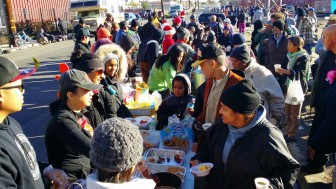 To love humanity and strive to serve it
Many years ago, I memorized this passage from the Bahá'í Writings," so powerful
is the light of unity that it can illuminate the whole earth." The
passage reflects the concept of the oneness of humanity. It provides
a brilliant standard by which to live a life in service to humanity.
I am a Baha'i. "To be a Bahá'í simply means to love all the
world; to love humanity and try to serve it; to work for universal
peace and universal brotherhood." This beautiful definition
inspires my approach to life.
Love and unity are the doors to unlocking the potential for peace at home, in the
neighbors, towns, large cities, nations and around the world.
Service is the master key for unlocking doors to peace. When I put
you before me and try to serve your needs the spark of reciprocal
affection is kindled. The concept is true and simple but sustaining
it takes effort. However, you can get there with the help of others.
America is amazing because you have so many service organizations to
choose from.
I am grateful to have collaborated with countless other friends, mentors, teachers,
club members, teammates, and government officials to have provided
over 300 hours of community service throughout Northern California.
Of the many things we do on a regular basis I love rescuing helping
animals and mentoring at-risk youth most. Here is a partial list of
the formal organizations which have provided the opportunity to learn
and grow in service to humanity.
President of KIWIN's community service club 2017

Associated Student Body (ASB) General Secretary and Executive Council Sierra
High 2017

President of the Lobo Gold Committee 2017 for students with a 4.0 GPA or
higher 2017

Only sophomore to be selected for the EDGE Youth Leadership Conference
2016

Lobo Gold (4.0 G.P.A. or higher), 2015-Present

Repeat Recipient of the President's Outstanding Academic Excellence Award
2012-2014
The privilege of service heartens my conviction that peace will prevail because it
simply feels better and works always. The challenge is learning to
persevere and be cool when the petty parts pop up. This is tough,
but I have found that having a standard that puts other first helps.
You don't always "win" or "get what you want" but you can
stay on track and sometimes find new ways forward if you focus on
your passion.
Three years ago, I started fostering feral kittens. It is hard to catch the kittens
in the wild. It is even more challenging to feed and socialize them
as they must be bottle nursed every 4 hours. Then it costs money to
properly medicate and neuter them. The time and expense cause my
parents to question my priorities; nevertheless, this is my passion.
It has been a challenge to learn to compromise with their demands but
seeing the faces of the families that ultimately adopt the cats makes
all of us happy. This is what makes it all worthwhile and what is
more conducive to peace than a home with a heart for animals. This
brings me to my favorite passage from the Bahá'í Writings, "If
an animal be sick, let the children try to heal it, if it be hungry,
let them feed it, if thirsty, let them quench its thirst, if weary,
let them see that it rests." As we promote peace through service
that results in love and unity we make spaces and places for animals
to thrive. This is my reason for embracing the ideal: "to love
humanity and try to serve it".