Name: Annie Anderson
From: Sunray , Texas
Grade: 9th Grade
School: Sunray High School
Votes: 0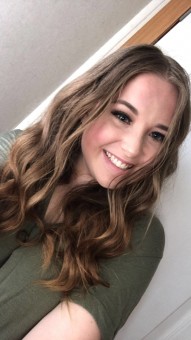 To Make the Best Better
Have you ever wanted to be better at something that you were already good
at? Have you ever seen someone struggle at something you were
excelling in? 4H is a county club in which various volunteering acts
are available to anyone willing to participate. Volunteering acts
include: giving a Thanksgiving/ Christmas dinner, building a
wheelchair ramp for the disabled, serving food and drinks to people
that have contributed to the club, and many more. Giving back is one
of the many things I was able to do while enrolled in this club.
My name is Annie Anderson, and whilst I was a freshman and sophomore in
highschool, I was involved in a service club called 4H. I had many
opportunities to get involved and help, and I took many of them.
The very first activity we did was to paint a pier for the mentally ill
kids of Talon Point, which is a Division of Panhandle Children's Foundation. This pier was to look
over the small lake that sat to the east of the activities building
and such. We went out early in the morning, and started painting the
pier from left to right. Seeing the kids react to the pier, was
heart-warming and highly satisfying. I loved to see their faces light
up and thank us for helping them.
Secondly, through 4H as well, participated in a food drive known as
"Snak-Pak-4-Kids". This organization got donations from food
companies and packaged them to give to children who did not have
meals in the evenings and on the weekends. Our job was to get the
items, bag them, tie the bags, and box them. There are many things in
life that are bearable, but to see little kids starve is not one of
those things. I would go almost every single time they held these. I
enjoyed helping them with the children of Dumas, America.
Volunteering is something that should not be done out of selfishness or
popularity. It is something that needs to come out of your heart. I
learned how to help people and be thankful for what I have doing the
many things I have done through 4H. My biggest challenge is
encouraging other people to believe the same way I do involving
volunteering. 4H is a club that "Makes the Best Better", the main
motto of the club. I strive to do that in my life as well.